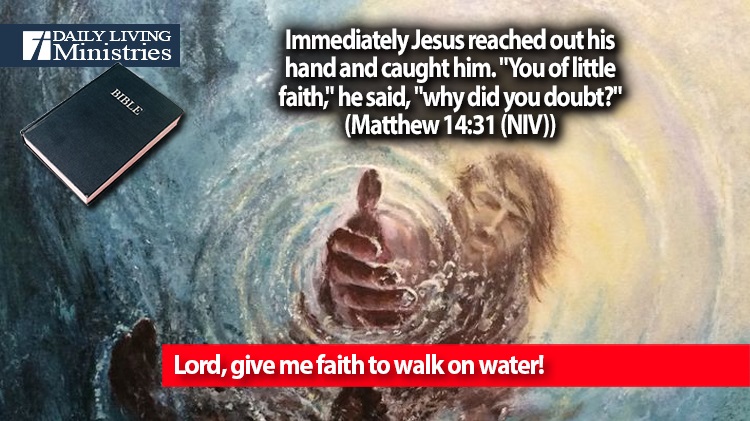 Be Still . . .
Devotionals for Daily Living ©
Immediately Jesus reached out his hand and caught him. "You of little faith," he said, "why did you doubt?"
(Matthew 14:31 (NIV))
If you profess a faith in Jesus, then you know the story of Peter and his attempt to go to Jesus by walking on the water. We like to point out that Peter's faith failed him and that he began to sink, however, I think that we are focusing on the wrong thing. Recently, I had someone point out to me that his faith was stronger than that of the other eleven, for they never even thought of going to Jesus. They never thought of stepping out of the boat to put their faith to the test. Only Peter took the step of faith and only Peter was willing to risk everything for his faith.
What type of faith do you have?
What type of faith do you want?
Are you willing to step out and trust the Lord when He calls you to something, or will you be like the eleven and simply sit by and watch as others take that step?
There is one thing that I do want to clarify. Jesus did not call the eleven to walk on water. He only called the one who desired to go to Him. He only called Peter, and Peter responded. The other eleven were comfortable where they were. They did not want to put themselves in danger. They did not ask Jesus to call them to do something different from what they already knew. To put this in perspective, they were perfectly happy in what we like to call their comfort zones.
Are you happy in your comfort zone? Are you content to simply live you life not knowing what the Lord has called you to do?
I wrote the following several years ago as a much longer piece. The following shorter segment has often become my prayer. I am only human. Sometimes I falter and miss what I am being called to and other times I take that step of faith. Still, I keep these words front and center. I keep praying to be able to fulfill them all of the time.
Give me faith to walk on water
To overcome my fears
To rest in the truth
That You are always near
Give me faith to trust Your greatness
To truly know Your heart
Give me faith to walk on water
If that's where You are
© 2016 Dennis J. Smock
Looking around at the world today, I know one thing. I want more of Jesus! I want to be like Peter and take that step of faith.
Lord, give me faith to walk on water!
Copyright 1998 – 2022 Dennis J. Smock
Daily Living Ministries, Inc.
https://www.dailylivingministries.org
Support Daily Living Ministries
Subscribe to daily email delivery
Visit us on facebook