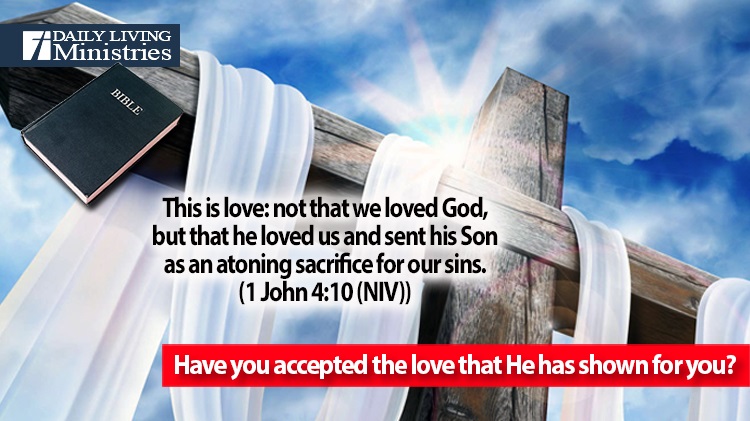 Be Still . . .
Devotionals for Daily Living ©
This is love: not that we loved God, but that he loved us and sent his Son as an atoning sacrifice for our sins.
(1 John 4:10 (NIV))
I have been battling diabetes for far too many years to even count. Every once in a while my blood sugar drops dangerously low. Most of these instances seem to happen at night. So far, I have always woken up and been able to take measures to raise my blood sugar. It happened again and I am writing this at 2:30 in the morning as I wait for the side effects of a very low blood sugar to go away. As I often do when this happens, I start to pray. Tonight, I remember saying something to the effect that Lord, I wish that you would find another way to wake me up, but I do enjoy our time together, so it is okay!
I reached over and grabbed my iPad and opened up one of my Bible apps. I instinctively went to the verse of the day and clicked to read the full chapter.
This passage stood out!
It gave me peace and assurance that even if I didn't wake up, everything would be okay.
I am His and He is mine!
My sins are forgiven and I am at peace! I rest confidently in the knowledge that the one who created the universe knows my name. I rest confidently knowing that I am loved, that my sins are forgiven, and that one day I will see Him face to face!
All of this because I chose to accept His love, mercy and grace that is freely given through His atoning sacrifice that was done once for all. All that you have to do is accept before it is too late!
Have you accepted the love that He has shown for you?
Copyright 1998 – 2022 Dennis J. Smock
Daily Living Ministries, Inc.
https://www.dailylivingministries.org
Support Daily Living Ministries
Subscribe to daily email delivery
Visit us on facebook