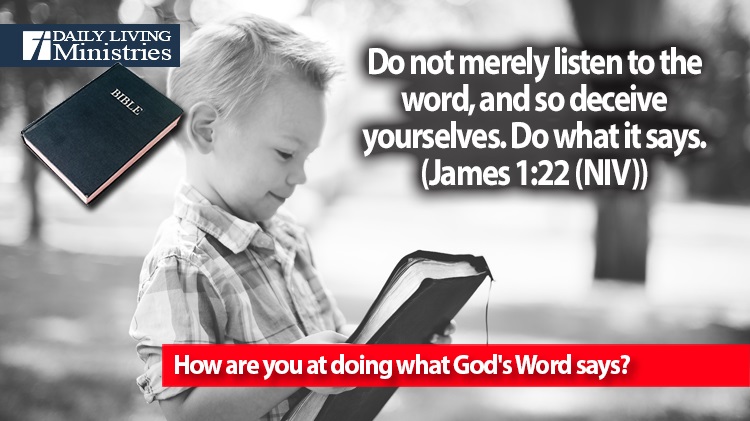 Be Still . . .
Devotionals for Daily Living ©
Do not merely listen to the word, and so deceive yourselves. Do what it says.
(James 1:22 (NIV))
How many of us deceive ourselves when it comes to God's Word? We all have passages that we read and tell ourselves, "Yeah. If only everybody would be like that, it would be great." The bad part about that is that most of the time we have only a superficial desire to do what we are asking others to do. We never truly do what it says.
We read and study God's Word, then almost immediately we do the very thing that it says that we should not do. It is like we are still in the Garden of Eden rebelling against God with Adam and Eve. We still only give a brief acknowledgment to the path that is right, but we never seem to follow the path to its destination. We soon get sidetracked and forget where we were desiring to go.
Anyone who listens to the word but does not do what it says is like a man who looks at his face in a mirror and, after looking at himself, goes away and immediately forgets what he looks like. But the man who looks intently into the perfect law that gives freedom, and continues to do this, not forgetting what he has heard, but doing it–he will be blessed in what he does.
(James 1:23-25 (NIV))
God desires for us to not only listen to the Word. He longs for us to do what it says. Listening to God's Word does not make you a follower. Satan listened to the Word. He knows exactly what it says. I would venture to say that the biggest issue is that he doesn't do what God's Word says.
Is this the root of human rebellion? Is this the root of human sin? We miss the mark all too often. Perhaps we should start to do what God's Word says. At least, we should desire to do what it says.
What is your desire?
How are you at doing what God's Word says?
Copyright 1998 – 2022 Dennis J. Smock
Daily Living Ministries, Inc.
https://www.dailylivingministries.org
Support Daily Living Ministries
Subscribe to daily email delivery
Visit us on facebook