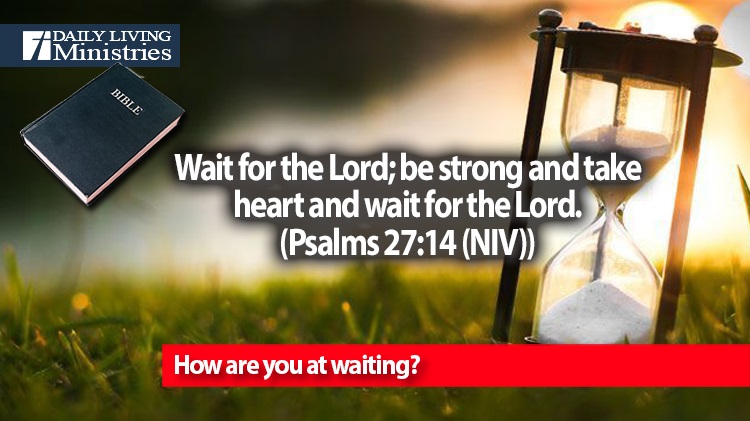 Be Still . . .
Devotionals for Daily Living ©
Wait for the Lord; be strong and take heart and wait for the Lord.
(Psalms 27:14 (NIV))
How long has it been since you professed a faith in Jesus as your personal Lord and Savior?
Has your faith matured since your first profession? Have you grown in your understanding of what a faith in Jesus actually means? Have you come to the realization that the enemy hates you because you love Jesus? Do you understand that God is unfolding His timeline and that those who profess a faith in Jesus are seeing what all of humanity has longed to see since the fall from grace. We are seeing a loving God who has given people so many chances to repent and accept the grace freely given through the blood of Jesus closing that door. We are seeing the enemy doing his best to vilify anything righteous.
Are you tired of waiting for God's righteousness to return to the earth? Are you watching and waiting for the Lord to gather His church? According to the events transpiring in the world today, we are closer than ever. In fact, I just saw the following bullet points that made me stop and reflect. We are seeing some things that I never thought I would see in my lifetime.
* The Abrahamic Family Center, which is a house of worship combining facilities for Christians, Jews and Muslims is set to open next month. This is one of many such facilities throughout the world. Some believe that this is an indicator of the coming one world religion.
* The required red heifers for the purification rituals for the 3rd Temple are here!
* Enemies are surrounding Israel on all sides and there are plans to divide Jerusalem.
* Almost every country is implementing digital currency, with plans to link them all together rapidly coming.
* Food shortages are increasing due to various issues.
* Technology has been developed and is in place, or being put in place, to be able to track everyone.
* There is an increase in lawlessness.
* There is an increase in wars and rumors of wars.
* There has been an ever increasing number of earthquakes.
* There has been an ever increasing number of plagues and pestilences.
* The whole world has been deceived by the pharmekia to fight these health issues.
* The generation that has lived to see Israel return to their homeland, the Fig Tree Generation, is now mature. We are told that the generation that sees this shall not pass away before these things come to pass!
If you are waiting for the Lord, stand firm in your faith. If you are still a sinner in need of a Savior, don't put it off another moment. Don't wait until it is too late!
I have come to the conclusion that everyone is waiting. They are either waiting for the Lord, or they are waiting for a reason to give their life to the Lord. Sadly, too many are waiting for the evil that they desire to be in complete control.
But if serving the Lord seems undesirable to you, then choose for yourselves this day whom you will serve, whether the gods your ancestors served beyond the Euphrates, or the gods of the Amorites, in whose land you are living. But as for me and my household, we will serve the Lord.
(Joshua 24:15 (NIV))
I choose to wait for the Lord.
How are you at waiting?
Copyright 1998 – 2022 Dennis J. Smock
Daily Living Ministries, Inc.
https://www.dailylivingministries.org
Support Daily Living Ministries
Subscribe to daily email delivery
Visit us on facebook