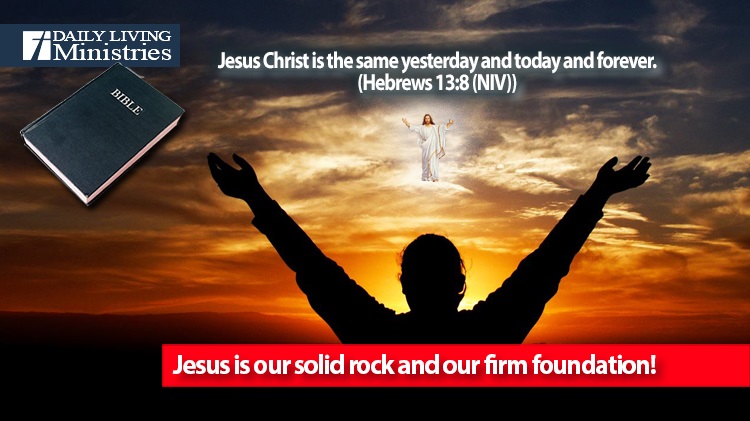 Be Still . . .
Devotionals for Daily Living ©
Jesus Christ is the same yesterday and today and forever.
(Hebrews 13:8 (NIV))
Unchanging.
Constant.
Steadfast.
Faithful.
Are there any other words that you use to describe something that is always the same?
Do any of these words apply to any person that you know?
To be honest with you, most people, myself included, usually don't think of people being this way. By nature, we are a sinful, fallen creation and we are prone to change from one moment to the next. We are affected by physical limitations. We get tired. We get hungry. We become sick. Then there are the worldly things that happen to us such as we lose a job or we lose our home. All of these things can make us someone that we would never have imagined we would be. We say and do things that we don't recognize and we wish that we could rewind time so that they never happened or they never were spoken.
Are you the same person that you were ten years ago? What about twenty, or thirty, or even fifty? Being human means that we should in a constant state of change. We can refuse to admit that we need to change when all around us is demanding that we grow and mature, or we can embrace the path of growth and maturity. As followers of Jesus, we should strive to grow and mature into His image. We should strive to imitate Jesus in all that we do. We should strive to love as He loved. We should strive to live as He lived. We should strive to obey the Father as He obeyed.
Jesus was and is unchanging.
Jesus was and is constant.
Jesus was and is steadfast, and Jesus was and is faithful!
In the beginning was the Word, and the Word was with God, and the Word was God. He was with God in the beginning.
(John 1:1-2 (NIV))
The Word became flesh and made his dwelling among us. We have seen his glory, the glory of the one and only Son, who came from the Father, full of grace and truth.
(John 1:14 (NIV))
If you profess a faith in Jesus as your personal Lord and Savior, then you have accepted these passages as truth. You have accepted that He is the same yesterday and today and forever.
Jesus is our solid rock and our firm foundation!
Copyright 1998 – 2022 Dennis J. Smock
Daily Living Ministries, Inc.
https://www.dailylivingministries.org
Support Daily Living Ministries
Subscribe to daily email delivery
Visit us on facebook