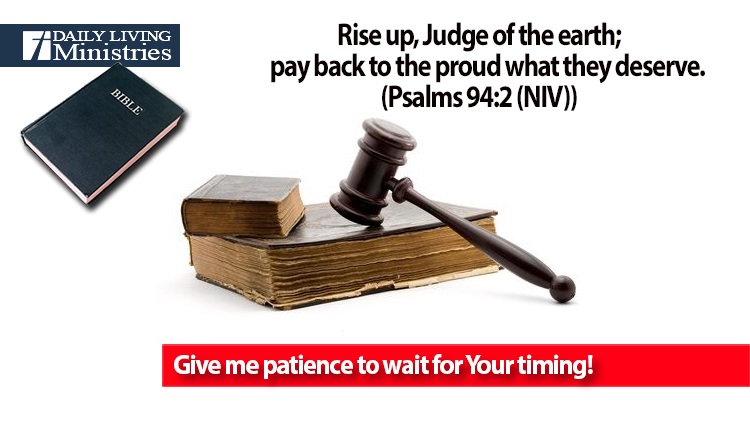 Be Still . . .
Devotionals for Daily Living ©
Rise up, Judge of the earth;
     pay back to the proud what they deserve.
(Psalms 94:2 (NIV))
Do you have patience?
When this was written, the psalmist was longing for the Lord to deal with the sin in this world. Today, many of us are longing for the same thing. The only difference is that of historical reference and perspective. When this was written, it was long before the birth of the promised Messiah. Today, we are two thousand years after the life of Jesus, and we now have insight into how God's plans will come to completion. We have the complete picture of the Law and the Prophets. We have the complete picture of the immaculate conception, the virgin birth and His life of miracles. We have the documentation of the Gospels and how He was crucified, dead and buried, and on the third day He arose. We have the witnesses who recorded His ascension and we have the faithful witness of those who spread the Gospel to the Gentiles. We even have the prophetic glimpses into the future where He returns to finalize God's plans for the enemy as well as for those who call evil good and good evil. We just don't know the hour or the day!
God's timing is perfect. It is we who are seeing things from a very limited vantage point. We cannot see the beginning nor can we see the end.
Our days may come to seventy years,
     or eighty, if our strength endures;
yet the best of them are but trouble and sorrow,
     for they quickly pass, and we fly away.
(Psalms 90:10 (NIV))
We don't have God's perspective.
But do not forget this one thing, dear friends: With the Lord a day is like a thousand years, and a thousand years are like a day.
(2 Peter 3:8 (NIV))
Patience is a virtue, but it is something that everyone who is human is drastically short of possessing. We want things to happen according to our timeline. We see the world only through the limited scope of our existence and the limited geography that we inhabit. God sees it all. He knows it all. He knows exactly what He is doing and exactly when it will come to pass. With this in mind, I have but one prayer. I hope that it is your prayer as well.
Give me patience to wait for Your timing!
Copyright 1998 – 2022 Dennis J. Smock
Daily Living Ministries, Inc.
https://www.dailylivingministries.org
Support Daily Living Ministries
Subscribe to daily email delivery
Visit us on facebook