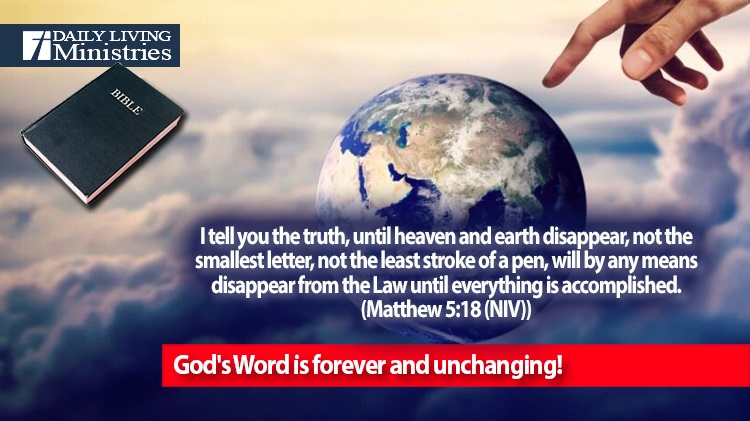 Be Still . . .
Devotionals for Daily Living ©
I tell you the truth, until heaven and earth disappear, not the smallest letter, not the least stroke of a pen, will by any means disappear from the Law until everything is accomplished.
(Matthew 5:18 (NIV))
Do you ever have passages just come into your scope of view unexpectedly?
Some people say that this is just coincidence. Anyone who professes a faith in Jesus as their personal Lord and Savior knows that there is no such thing as coincidence. God works things out in order that things enter into your life for a reason. I honestly believe that this passage is more than an earthly coincidence. I have found myself thinking for quite a while about those who try to twist God's Word and those who say that the meaning has changed because we are now living in a "modern" society. This passage confirms what my spirit has known. If something is missing or something has been changed, then it is no longer God's perfect Word. It has become a twisted lie from the enemy.
The enemy plants the idea that a particular sin is not that bad in the grand scheme of things, and soon, those who don't truly know God's Word will believe the lie. The next time that the enemy twists things again, it becomes further from God's truth, but people still accept it as God's truth.
Biblical scholars have discussed God's Word for many years. There are some passages that people have disagreements about how to interpret, how to understand, but this is not where people deliberately try to change God's Word. The disagreement occurs because typically what they are reading has not transpired yet in God's perfect timing. Twisting and perverting God's Word is a sin.
Just because someone tries to twist God's Word doesn't mean that God has changed His mind about what was written. It simply means that man has read God's Word and found it uncomfortable. It points out something within their lives that they know is wrong. Instead of changing their lives to fit God's Word, they try to change God's Word to fit their lives.
Do you know anyone like this?
Are you like this?
Instead of chasing after people who twist and pervert God's Word because that is what you want to hear, chase after God's Word and the complete truth that is contained within. Spend time at the foot of the cross. Spend time in prayer. Spend time in God's throne room. Seek His truth and the lies of the enemy will become clear for what they are.
God's Word is forever and unchanging!
Copyright 1998 – 2022 Dennis J. Smock
Daily Living Ministries, Inc.
https://www.dailylivingministries.org
Support Daily Living Ministries
Subscribe to daily email delivery
Visit us on facebook