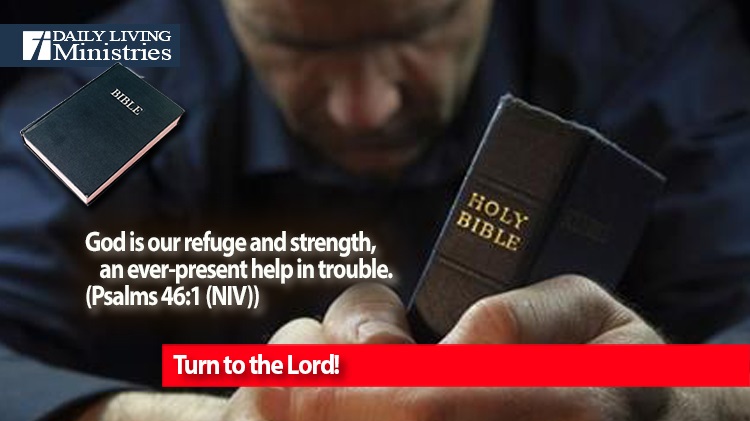 Be Still . . .
Devotionals for Daily Living ©
God is our refuge and strength,
     an ever-present help in trouble.
(Psalms 46:1 (NIV))
How true this is!
We have a refuge from the storms of this life. God is always there to turn to no matter what our life is bringing to us or what the sinful, fallen world is sending our way. Whether we need to turn to God for safety and refuge or whether we turn to God in celebration, He is always there to turn to. He will never abandon those who earnestly seek Him and call upon His Son, Jesus Christ for salvation.
God is good all the time!
Do you earnestly seek Him? Do you truly desire the things that He promises over the things of this world?
If you simply look at the things of this world and have no other point of reference, there are some things that look appealing. I know that you have looked. What person hasn't looked? What are the things that initially caught your attention in this world? There are things that we all like such as nice homes, nice cars, enough money to do what you want when you want, and the respect of those around you, but are these things the source of your strength or have they caused you more trouble than you care to admit? Even those who have these things still have troubles. In fact, I remember talking to someone about these things when I was in my mid-twenties. His reply to me was that having these things didn't make your troubles go away. They just got bigger. A nice house and nice cars just lead to the same thing – headache! The only difference is the size of the headache, the size of the trouble.
With that in mind, no matter the size of your trouble, simply remember that God is our refuge. He is our strength. He alone is our help in trouble, and at this moment in time, the whole world is facing trouble. Pandemics, weather issues, extreme temperatures, supply chaine problems, food shortages, wars and rumors of wars are all signs of the troubles that the whole world is facing. We have had times of great wars and times of pandemics. We have had times of localized food shortages and weather, but we have never had things worldwide with the prospect of things of Biblical proportion. I don't know what tomorrow will bring, but I rest assured that I have placed my faith and trust solely in the Lord.
When things in life are tough, take refuge in the Lord.
When things in life are tough, find strength in the Lord.
When things in life are tough, seek help from the Lord.
It is often said that life is tough, so that only leaves one possible conclusion.
Turn to the Lord!
Copyright 1998 – 2022 Dennis J. Smock
Daily Living Ministries, Inc.
https://www.dailylivingministries.org
Support Daily Living Ministries
Subscribe to daily email delivery
Visit us on facebook