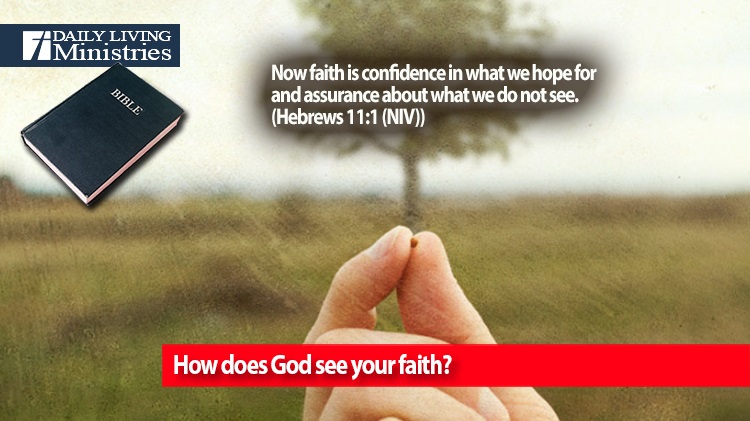 Be Still . . .
Devotionals for Daily Living ©
Now faith is confidence in what we hope for and assurance about what we do not see.
(Hebrews 11:1 (NIV))
What are you the most confident of in this world?
What is it that makes you feel this confidence?
There are many things that are in this world that I am confident of, but everything that I am confident of are things that I can see, hear, feel and touch. Still, even these things can and do fail me. If you look at things in this manner, you could almost say that you are confident to a point, but what happens when that point is reached or you go beyond that point? For example, you are confident that the brakes on your car will help you stop, but what happens when someone pulls out in front of you and you physically can't come to a stop?
In essence, everything in this world that we place our confidence in will at some point fail us!
Our health will deteriorate. Our strength and youth will leave us. Our homes will need repairs. Our cars will break down. Our relationships will be stressed and sometimes they will break. Even the things that we love the most in this world will eventually lose their luster.
But, . . .
If we place our faith in Jesus, we truly have the confidence in what we hope for. We have the assurance that even though we don't see Him, He will return for us. We have the witnesses who recorded His life when He walked this earth. We have God's promises that we can hold fast to.
For no matter how many promises God has made, they are "Yes" in Christ. And so through him the "Amen" is spoken by us to the glory of God.
(2 Corinthians 1:20 (NIV))
Yes and Amen!
Positive affirmation and a resounding proclamation of "So let it be!" Human language can't express the fullness, the completeness of our confidence in what we hope for in Jesus. We have assigned a very simple word to try to convey what we feel. That word is faith. I love how faith is defined for us in Hebrews 11:1, but do you have a personal definition of faith that you cling to in times of trouble? Perhaps it is beyond words.
In the same way, the Spirit helps us in our weakness. We do not know what we ought to pray for, but the Spirit himself intercedes for us through wordless groans. And he who searches our hearts knows the mind of the Spirit, because the Spirit intercedes for God's people in accordance with the will of God.
(Romans 8:26-27 (NIV))
There is something wonderful and powerful when you have the confidence and the assurance that the God of all creation can and does intercede for us through our wordless groans. Even when you can't define it, God sees our faith!
How does God see your faith?
Copyright 1998 – 2022 Dennis J. Smock
Daily Living Ministries, Inc.
https://www.dailylivingministries.org
Support Daily Living Ministries
Subscribe to daily email delivery
Visit us on facebook