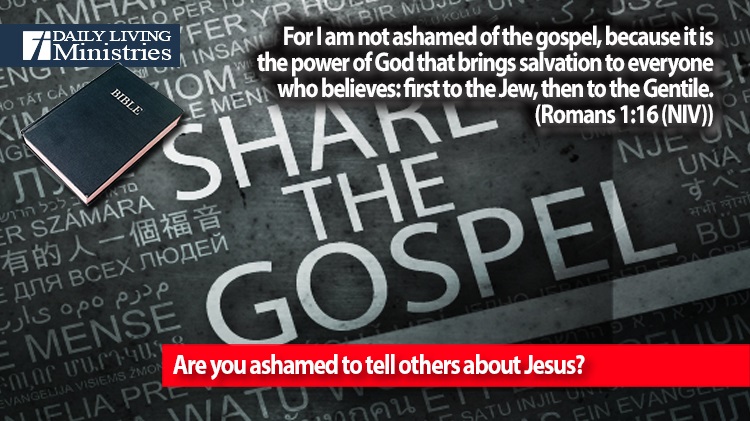 Be Still . . .
Devotionals for Daily Living ©
For I am not ashamed of the gospel, because it is the power of God that brings salvation to everyone who believes: first to the Jew, then to the Gentile.
(Romans 1:16 (NIV))
If Paul, who was originally persecuting followers of Jesus, can truthfully claim that he is not ashamed of the gospel, why do so many people today claim that they can't tell anyone about Jesus?
Think about that question in relation to this passage from Matthew.
"Whoever acknowledges me before others, I will also acknowledge before my Father in heaven. But whoever disowns me before others, I will disown before my Father in heaven.
(Matthew 10:32-33 (NIV))
If we aren't willing to tell others about Jesus, what does that sound like to you? Is there a difference between not sharing Jesus and disowning Jesus? How does this relate to what we have been given as our instructions as followers of Jesus?
Therefore go and make disciples of all nations, baptizing them in the name of the Father and of the Son and of the Holy Spirit, and teaching them to obey everything I have commanded you.
(Matthew 28:19-20a (NIV))
Is not sharing the gospel with others the same as denying Jesus? If we are called to love our neighbor as ourselves, then how can we justify not sharing the grace and mercy and love that Jesus offers with those who are our neighbors? It seems to me that this is denying Jesus before men!
Are you ashamed to tell others about Jesus?
Copyright 1998 – 2022 Dennis J. Smock
Daily Living Ministries, Inc.
http://www.dailylivingministries.org
Support Daily Living Ministries
Subscribe to daily email delivery
Visit us on facebook