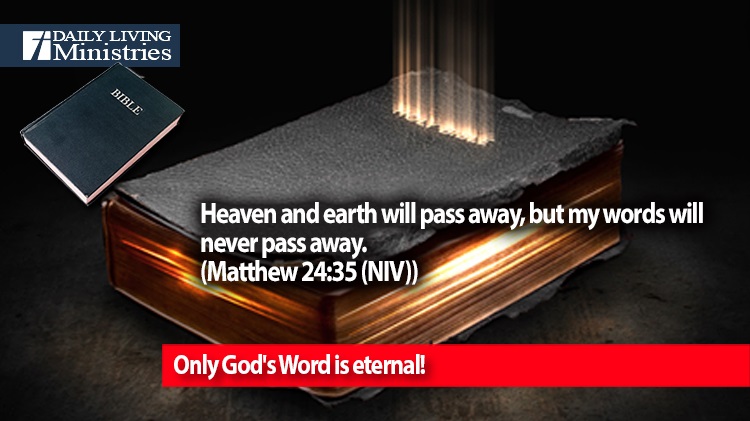 Be Still . . .
Devotionals for Daily Living ©
Heaven and earth will pass away, but my words will never pass away.
(Matthew 24:35 (NIV))
We have this idea that our surroundings are a permanent fixture that we simply pass through for a few years, but are they truly permanent? From our limited perspective, they may appear that way for they were here when we were born, and unless Jesus returns soon, they will be here when we leave this world.
But, we have a very limited perspective!
Our days may come to seventy years,
     or eighty, if our strength endures;
yet the best of them are but trouble and sorrow,
     for they quickly pass, and we fly away.
(Psalm 90:10 (NIV))
God's creation is much older than our limited life span, yet, His creation was made for us. If the fall from grace had not happened, we can only imagine what our world would be like today. Unfortunately, the fall from grace did happen and we are now living in a sinful, fallen world that we are promised will be made new when the Lord returns and makes His dwelling place among His creation.
Then I saw "a new heaven and a new earth," for the first heaven and the first earth had passed away, and there was no longer any sea. I saw the Holy City, the new Jerusalem, coming down out of heaven from God, prepared as a bride beautifully dressed for her husband. And I heard a loud voice from the throne saying, "Look! God's dwelling place is now among the people, and he will dwell with them. They will be his people, and God himself will be with them and be their God. 'He will wipe every tear from their eyes. There will be no more death' or mourning or crying or pain, for the old order of things has passed away."
(Revelation 21:1-4 (NIV))
In essence, Matthew hinted at what we were given in detail in Revelation. Our God will make things new again and those who profess a faith in Jesus as their personal Lord and Savior will see His promises fulfilled.
Only God's Word is eternal!
Copyright 1998 – 2022 Dennis J. Smock
Daily Living Ministries, Inc.
http://www.dailylivingministries.org
Support Daily Living Ministries
Subscribe to daily email delivery
Visit us on facebook