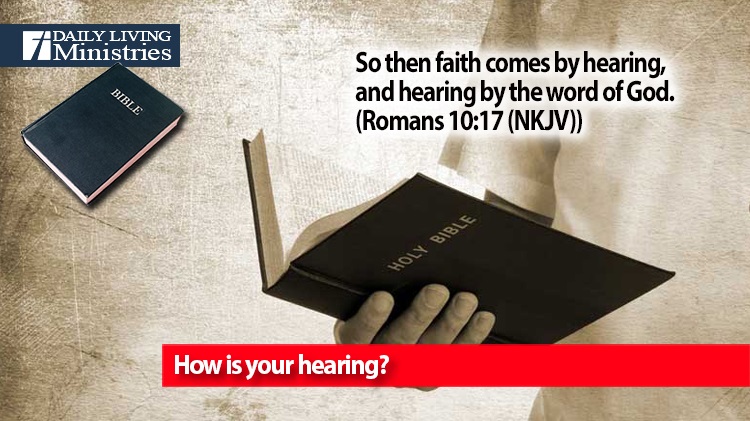 Be Still . . .
Devotionals for Daily Living ©
So then faith comes by hearing, and hearing by the word of God.
(Romans 10:17 (NKJV))
How did you come to faith in Jesus?
I realize that this is a rhetorical question, since someone had to tell you about the saving grace that could be yours through the atoning blood of Jesus. I do not know anyone who simply woke up one morning with a newfound faith in Jesus. I do realize that Jesus has made appearances to people in countries where the Gospel is banned, but even these newfound believers heard the Gospel before coming to faith.
In essence, someone had to share the Gospel in order for someone else to receive it! They had to explain that we are all born sinners and that the wages of sin is death. They had to explain that God loved the world and sent His Son, Jesus, to pay the price for our sins. Someone had to explain that because that price was paid by a sinless man, we have the ability to have our sins forgiven so that we can stand in God's presence with our sin debt fully paid! That is how someone comes to faith in Jesus!
But, what is faith?
Now faith is the substance of things hoped for, the evidence of things not seen.
(Hebrews 11:1 (NKJV))
When you think of something of substance, you think of truth. You think of solidness. You think of something that is satisfying. When you think of evidence, you think of undeniable facts.
Another translation states it like this.
Now faith is confidence in what we hope for and assurance about what we do not see.
(Hebrews 11:1 (NIV))
When you think of confidence, you think of undeniable truth and strength. You might even say that it borders on assuredness. I love how this translation ties that together in the next part of the passage. We have assurance, a firm foundation built upon a promise, that what we believe is true.
Faith is built upon the hope that we have in Jesus. There is evidence to support what we profess. It is documented in the Gospels. It is documented by other historians. We are confident in what we profess. We have placed ourselves squarely and solely on the promises that God has given to us. We have a firm foundation with Jesus as our cornerstone!
How is your hearing?
Copyright 1998 – 2022 Dennis J. Smock
Daily Living Ministries, Inc.
http://www.dailylivingministries.org
Support Daily Living Ministries
Subscribe to daily email delivery
Visit us on facebook