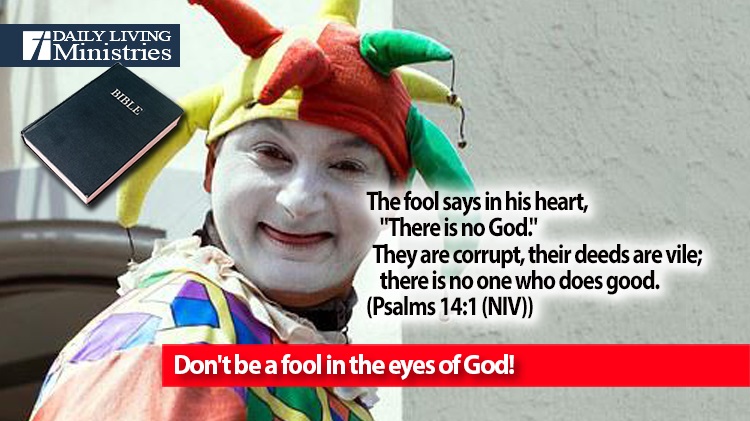 Be Still . . .
Devotionals for Daily Living ©
The fool says in his heart,
     "There is no God."
  They are corrupt, their deeds are vile;
     there is no one who does good.
(Psalms 14:1 (NIV))
Who would consider you to be a fool? Would the world say that of you or would God?
You cannot appease both. Either you throw your faith with God and the world thinks you a fool or you stand with the world and God knows you for what you are. Either way, we make a decision that leaves us a fool in the eyes of someone.
Each of us is born with a void inside of us. That void can only be filled by God. Many people try to fill it with other things, but they can never be satisfied. To those who say that there is no God, they have attempted to fill that void with worldly things and have found no peace. Since they cannot find peace in this manner, they assume that God does not exist. They reason that how could a being who created us leave us with such an emptiness? Since we have an emptiness, then there must be no God. They marvel at their reasoning.
The way of a fool seems right to him,
   but a wise man listens to advice.
(Proverbs 12:15 (NIV))
They lack the very peace that they seek.
And the peace of God, which transcends all understanding, will guard your hearts and your minds in Christ Jesus.
(Philippians 4:7 (NIV))
Peace comes from only one source. It is that source that can also fill the void within us. When that void is filled with God, then we have a change of heart. We realize that there is a God and that He loves us. He guides us in our deeds. We learn to walk in His ways. We realize that we have been the very fools that we claimed others to be.
If you have to chose who will label you as a fool, who will it be?
Don't be a fool in the eyes of God!
Copyright 1998 – 2022 Dennis J. Smock
Daily Living Ministries, Inc.
http://www.dailylivingministries.org
Support Daily Living Ministries
Subscribe to daily email delivery
Visit us on facebook