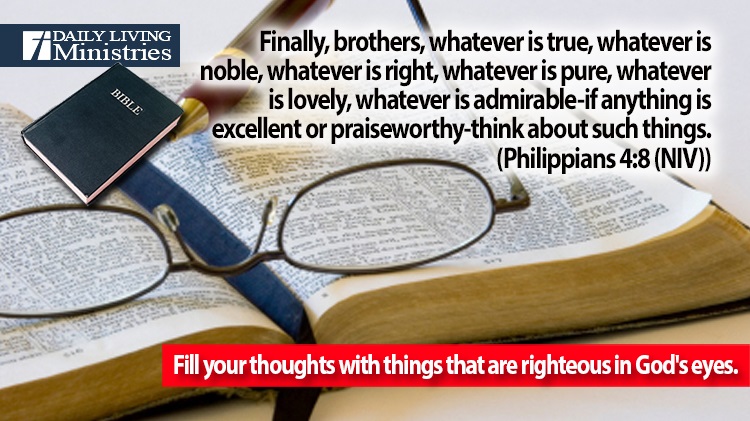 Be Still . . .
Devotionals for Daily Living ©
Finally, brothers, whatever is true, whatever is noble, whatever is right, whatever is pure, whatever is lovely, whatever is admirable-if anything is excellent or praiseworthy-think about such things.
(Philippians 4:8 (NIV))
What do you think about? What thoughts come into mind when nothing else is there to distract you? What crosses your mind when there is no work or family or other issues that must be addressed?
What do you spend your time doing when you are all alone?
Are you proud of your answers to these questions?
Would Jesus approve of your answers?
It is so easy to slip into habits that are not righteous. It is easy to slip into things that go against the fruit of the Spirit.
But the fruit of the Spirit is love, joy, peace, patience, kindness, goodness, faithfulness, gentleness and self-control. Against such things there is no law. Those who belong to Christ Jesus have crucified the sinful nature with its passions and desires. Since we live by the Spirit, let us keep in step with the Spirit. Let us not become conceited, provoking and envying each other.
(Galatians 5:22-26 (NIV))
We are all familiar with the acronym "WWJD." What would Jesus do is something that we should always ask ourselves, not only in our interactions with others, but also in our own thoughts and actions. It is our thoughts that often lead to our actions. If we think on things, it is human nature to take action. Be careful what you think about.
Fill your thoughts with things that are righteous in God's eyes.
Copyright 1998 – 2022 Dennis J. Smock
Daily Living Ministries, Inc.
http://www.dailylivingministries.org
Support Daily Living Ministries
Subscribe to daily email delivery
Visit us on facebook