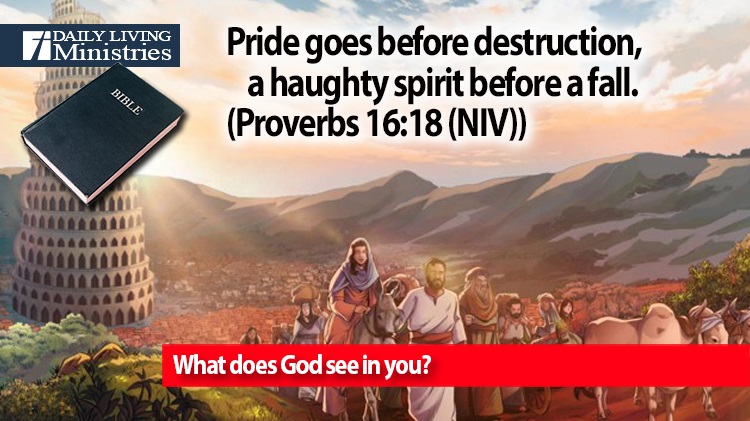 Be Still . . .
Devotionals for Daily Living ©
Pride goes before destruction,
     a haughty spirit before a fall.
(Proverbs 16:18 (NIV))
We have seen a lot about pride in recent years, and it seems to be on the increase in just the last few years. Add to this a haughty spirit and we should be expecting something that will bring the unbelieving world to it's knees.
Have you ever looked up the definition of the word "haughty"? You may be in for an awakening once you realize the depth of the meaning of the word. According to Merriam-Webster, haughty is being blatantly and disdainfully proud : having or showing an attitude of superiority and contempt for people or things perceived to be inferior.
Does this sound anything like our society and our world today? We see the "in your face" attitudes and utter contempt and hatred for anything or anyone related to Jesus.
Basically, if you profess a faith in Jesus as your personal Lord and Savior, you are looked upon as inferior and you are looked upon with contempt. The prideful spirit of this world looks upon anything that is contrary to what they desire as inferior. What they desire is sin and if you profess a faith in Jesus as your personal Lord and Savior, what you desire is completely contrary to what the world desires.
I find it interesting that we know that the ways of this world are always completely opposite of what God desires. We are told to humble ourselves. The world says to be proud of who you are. We are told to love our neighbors as ourselves. The world tells us to hate those who are different from us, to hate those who don't believe as we do. We are told to see others first and ourselves last. The world tells us to go for it because we deserve it.
Sadly, I believe that the non believing, sinful world has become exceedingly prideful and haughty to the point that we are seeing what was written of in 2 Timothy.
But mark this: There will be terrible times in the last days. People will be lovers of themselves, lovers of money, boastful, proud, abusive, disobedient to their parents, ungrateful, unholy, without love, unforgiving, slanderous, without self-control, brutal, not lovers of the good, treacherous, rash, conceited, lovers of pleasure rather than lovers of God— having a form of godliness but denying its power. Have nothing to do with such people.
(2 Timothy 3:1-5 (NIV))
It is God's desire that we are blatantly humble and righteous in His eyes.
What does God see in you?
Copyright 1998 – 2022 Dennis J. Smock
Daily Living Ministries, Inc.
http://www.dailylivingministries.org
Support Daily Living Ministries
Subscribe to daily email delivery
Visit us on facebook