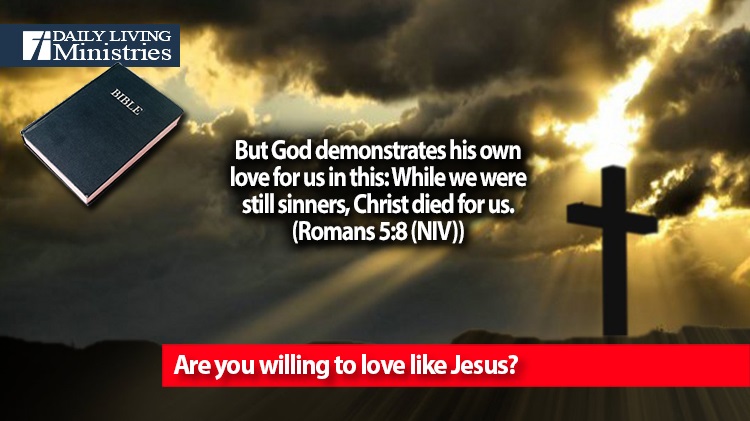 Be Still . . .
Devotionals for Daily Living ©
But God demonstrates his own love for us in this: While we were still sinners, Christ died for us.
(Romans 5:8 (NIV))
How many people do you know for whom you would give up your life in order to save theirs?
If you are like most people, that number is relatively small and is probably limited to immediate family and maybe a few close friends. Some of us may even venture to say that we would do it for the greater good of humanity, but in all honesty, self preservation is a powerful human trait and not many of us would actually carry through with what we profess.
Jesus did!
Greater love has no one than this, that he lay down his life for his friends.
(John 15:13 (NIV))
Jesus willingly laid down His life for anyone who has lived or will ever live just so that they can have their sins washed clean! He laid down His life for His friends. He laid down His life for you and I.
What makes us His friends?
You are my friends if you do what I command.
(John 15:14 (NIV))
What does Jesus command?
This is my command: Love each other.
(John 15:17 (NIV))
If we simply rely on our own human nature, we cannot love each other. We need help. We need to admit that we are sinners in need of a Savior. We must be willing to repent and follow Jesus. We must be willing to set our selfish natures aside and live our lives as Jesus lived His. We must be willing to follow Jesus and love those whom He loves. We must be willing to show that love in ways that may go beyond our comfort zones.
Are you willing to love like Jesus?
Copyright 1998 – 2022 Dennis J. Smock
Daily Living Ministries, Inc.
http://www.dailylivingministries.org
Support Daily Living Ministries
Subscribe to daily email delivery
Visit us on facebook