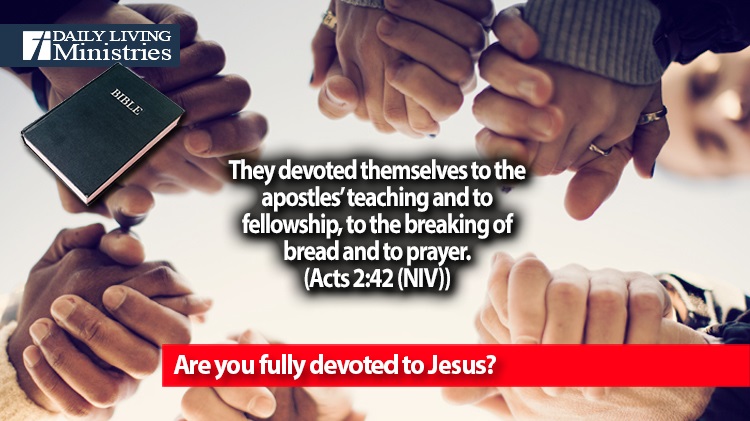 Be Still . . .
Devotionals for Daily Living ©
They devoted themselves to the apostles' teaching and to fellowship, to the breaking of bread and to prayer.
(Acts 2:42 (NIV))
They had something to be thankful for. They had something to share. They had something to celebrate!
For God did not send his Son into the world to condemn the world, but to save the world through him.
(John 3:17 (NIV))
They had recognized and accepted God's gift of salvation and they were not lukewarm in their faith. In fact, the early church felt that their faith required their full devotion and not just for a weekly twenty minute sermon. Why do we fail to do the same?
What have we lost?
It is common thinking that today we are far more intellectual, far more studied and educated than at any other time in history. Are we? We turn on a screen to keep us entertained. We click a button to play our favorite music. We scroll through endless amounts of mindless chatter and think that we are smarter and that we are far more educated on subjects than our ancestors. What we fail to realize is that now we are being spoon fed what someone else wants us to know. If something doesn't fit into our way of thinking, we tend to brush it off and move on. If something does catch our attention, we don't put an extended effort into anything because we think that it is too difficult. We think that if we need to know it, we can simple ask Google. Is this the more abundant life that Jesus died on the cross to give us?
When was the last time that you spent any time in God's Word? Do you have a consistent time that you set aside for God's Word and for prayer? It is said that the Bible is God's love letter to us. If that is true, then if we profess a faith in Jesus as our personal Lord and Savior, we should be hopelessly devoted to the One who loves us enough to save us from our sins. We should be hopelessly devoted to getting to know our Lord and Savior. We should be devoted to the apostles' teaching. We should be devoted to fellowship with other believers. We should break bread with other believers, and we should pray individually and collectively.
Today, if someone is totally devoted to Jesus, if they do these things, people call them various different names including Bible thumper. Do you care what people call you? Do you care what the world thinks of you or do you long to be like Paul?
For I resolved to know nothing while I was with you except Jesus Christ and him crucified.
(1 Corinthians 2:2 (NIV))
Are you fully devoted to Jesus?
Copyright 1998 – 2022 Dennis J. Smock
Daily Living Ministries, Inc.
http://www.dailylivingministries.org
Support Daily Living Ministries
Subscribe to daily email delivery
Visit us on facebook