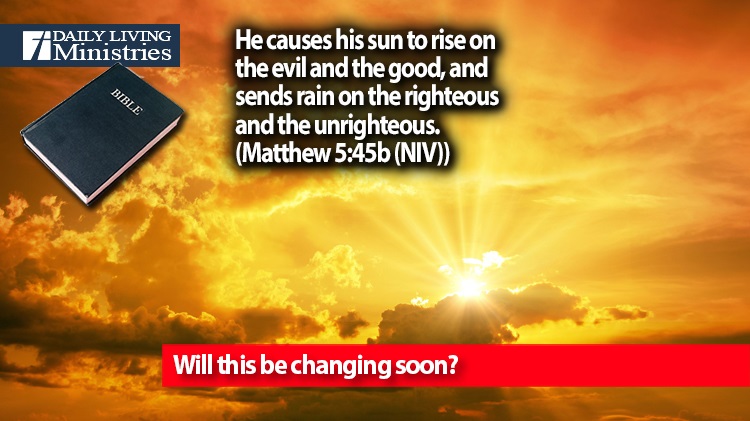 Be Still . . .
Devotionals for Daily Living ©
He causes his sun to rise on the evil and the good, and sends rain on the righteous and the unrighteous.
(Matthew 5:45b (NIV))
I truly love the fact that God shows His mercies to everyone whether we deserve them or not. Based on this passage, He uses everything in His creation to draw people to Himself. Sadly, too many people simply ignore Him, or even worse, they curse Him. He even sent His Son, Jesus, to live in this world as a teacher and to die on the cross as an atoning sacrifice. He even resurrected Jesus from the dead to overcome the power of sin and death, and still, people ignore Him or curse Him.
We are told that a time will come at the end when His wrath will be poured out on the world!
What do you believe will happen with the righteous at this time?
I am sure that someone has drawn this conclusion before, but I want to present a passage that I believe tells us of God's heart toward the righteous. It comes from the parable of the ten virgins.
At that time the kingdom of heaven will be like ten virgins who took their lamps and went out to meet the bridegroom. Five of them were foolish and five were wise. The foolish ones took their lamps but did not take any oil with them. The wise ones, however, took oil in jars along with their lamps. The bridegroom was a long time in coming, and they all became drowsy and fell asleep.
(Matthew 25:1-5 (NIV))
We know all too well God's definition of a fool.
The fool says in his heart,
     "There is no God."
They are corrupt, their deeds are vile;
     there is no one who does good.
(Psalm 14:1 (NIV))
I believe that we can interchange righteous with wise and unrighteous with foolish. Based on that, I believe that we see the next obvious step in the process with those who are ready and waiting for Jesus will be taken to be with the bridegroom!
But while they were on their way to buy the oil, the bridegroom arrived. The virgins who were ready went in with him to the wedding banquet. And the door was shut.
(Matthew 25:10 (NIV))
I have never heard anything about Jewish wedding traditions that say those waiting for the bridegroom would undergo suffering. I have never heard anything about these traditions that indicate they would miss the joyous celebration. If Jesus is coming for His bride, His bride would be spotless!
We see the sun rising on both the evil and the good. We see rains falling on both the righteous and the unrighteous. I believe that this is in the process of changing.
Will this be changing soon?
Copyright 1998 – 2022 Dennis J. Smock
Daily Living Ministries, Inc.
http://www.dailylivingministries.org
Support Daily Living Ministries
Subscribe to daily email delivery
Visit us on facebook