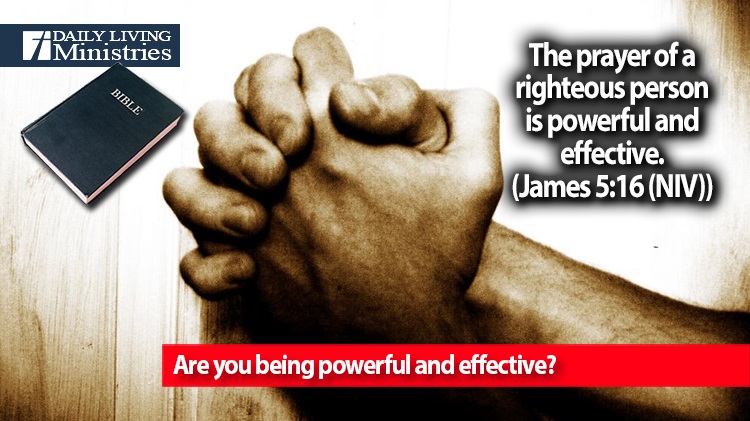 Be Still . . .
Devotionals for Daily Living ©
The prayer of a righteous person is powerful and effective.
(James 5:16 (NIV))
What do you pray for?
Perhaps I should ask if you even pray. Too many people think that they pray but in all honesty, all that they do is approach God with their wish list of things that will benefit them. Please don't misunderstand that comment. We have a God who is concerned about our needs, but we are supposed to be concerned about someone besides ourselves. We are supposed to be concerned with being obedient to God's will.
God desires our righteousness and not our selfishness.
What does God see as righteousness?
Abram believed the Lord, and he credited it to him as righteousness.
(Genesis 15:6 (NIV))
And if we are careful to obey all this law before the Lord our God, as he has commanded us, that will be our righteousness.
(Deuteronomy 6:25 (NIV))
I could find many passages that define righteousness; but in essence it is being right with God! It is what God calls good.
He has shown you, O mortal, what is good
     And what does the Lord require of you?
To act justly and to love mercy
     and to walk humbly with your God.
(Micah 6:8 (NIV))
Do you act justly in all that you do? Do you treat everyone with love and compassion?
Do you love mercy? Do you show mercy or do you only expect mercy to be shown to you?
Do you walk humbly with God? Do you understand that you are not the center of the universe and that God doesn't love you more than He loves anyone else? Are you willing to put others first instead of being self-centered?
Based on these criteria, righteousness is not as easy as we would like to think. It results from a desire to be so in tune with God that we see the world and ourselves through His eyes. When this happens, we desire what God desires. Is this what you desire? If this is your desire, then your prayers for what God desires will be powerful and effective!
Are you being powerful and effective?
Copyright 1998 – 2022 Dennis J. Smock
Daily Living Ministries, Inc.
http://www.dailylivingministries.org
Support Daily Living Ministries
Subscribe to daily email delivery
Visit us on facebook