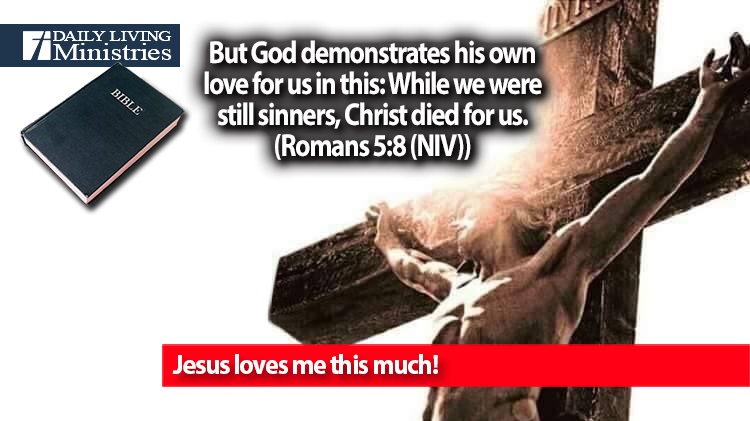 Be Still . . .
Devotionals for Daily Living ©
But God demonstrates his own love for us in this: While we were still sinners, Christ died for us.
(Romans 5:8 (NIV))
With just a few days left before we celebrate the resurrection of Jesus from the dead, there is not a better passage to explain why Jesus went to the cross. We were lost in our sin and in need of a Savior, so God sent Jesus to save us by paying the debt owed for our sin. Our sinful nature separated us from God, so the Lord devised a plan to take all the sin upon Himself so that we could be free from the bondage of sin and death. There is no greater love that has ever been shown than this act of loving redemption and salvation.
For God so loved the world that he gave his one and only Son, that whoever believes in him shall not perish but have eternal life. For God did not send his Son into the world to condemn the world, but to save the world through him. Whoever believes in him is not condemned, but whoever does not believe stands condemned already because they have not believed in the name of God's one and only Son.
(John 3:16-18 (NIV))
When you were a child, did you ever stretch your arms way out to the side and tell someone that you loved them this much? That is exactly what Jesus did when He hung on the cross for you and I. He was telling the whole world that He loves us this much. His outstretched arms also tell us that He is waiting with open arms to embrace us as we embrace the grace and mercy that He freely gives to all who will simply accept. His open arms welcome us into the family of God as brothers and sisters and not as servants or slaves.
The next time that you need to remind yourself of just how much the Lord loves us, simply stretch out your arms like you did when you were a child and simply say, "Jesus loves me this much!"
Copyright 1998 – 2022 Dennis J. Smock
Daily Living Ministries, Inc.
http://www.dailylivingministries.org
Support Daily Living Ministries
Subscribe to daily email delivery
Visit us on facebook