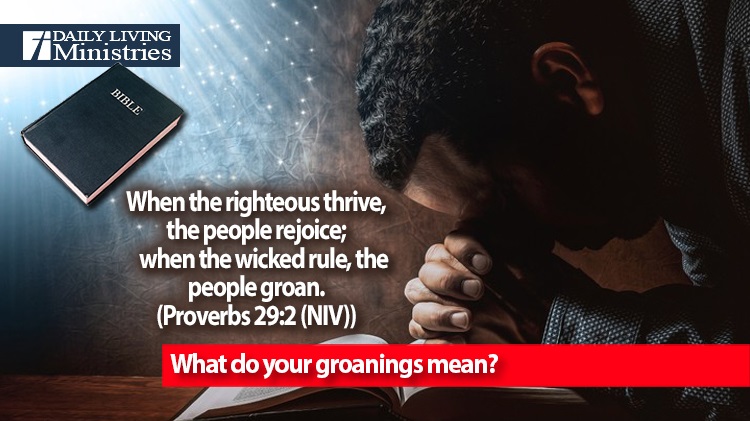 Be Still . . .
Devotionals for Daily Living ©
When the righteous thrive, the people rejoice;
      when the wicked rule, the people groan.
(Proverbs 29:2 (NIV))
I am going to ask a question that many people will say has an obvious answer, but just to make sure, here goes.
What are you hearing from the people, from the world today?
I honestly believe that the only people you hear rejoicing are the ones at the very heart of all of this mess. There is a big push by the global elite to do things that are fulfilling things foretold of long ago in God's Word. Whether you believe that the new world order is planning a great reset or you believe that Planet X is making people crazy, one thing is certain – there is something big going on in this world. I want to let you in on a little secret that should put your mind at ease if you profess a faith in Jesus as your personal Lord and Savior. God is still in complete control! None of this has caught Him by surprise. We are the ones who are surprised.
Why?
Do we not spend enough time in His Word? Do we not know His Word well enough to know what He is allowing to happen as it happens right in front of us? Are we groaning because we are saddened by the state of the world as it has so rapidly changed? Are we groaning because we long for the way things used to be?
Personally, I like to believe that the groaning that we are hearing is from the Body of Christ as we pray through the Holy Spirit to express our desires for His righteousness and His plan as it unfolds.
In the same way, the Spirit helps us in our weakness. We do not know what we ought to pray for, but the Spirit himself intercedes for us through wordless groans.
(Romans 8:26 (NIV))
This may sound strange, but I believe that those who profess a faith in Jesus as their personal Lord and Savior can groan in the Spirit, yet still be able to rejoice, for we know that Jesus will return sooner than any of us would have even considered ten years ago. We groan because we long for the evil to end and His righteousness to be established, and we rejoice because we know that it will come.
We don't know what tomorrow will hold, but we do know who holds tomorrow. All that I know is that I pray to be able to be as faithful as those whom were fed to the lions in the Colosseum. It is written that they sang with eyes lifted toward heaven!
Are you prepared? Do you stand firm in your faith?
What do your groanings mean?
Copyright 1998 – 2022 Dennis J. Smock
Daily Living Ministries, Inc.
http://www.dailylivingministries.org
Support Daily Living Ministries
Subscribe to daily email delivery
Visit us on facebook