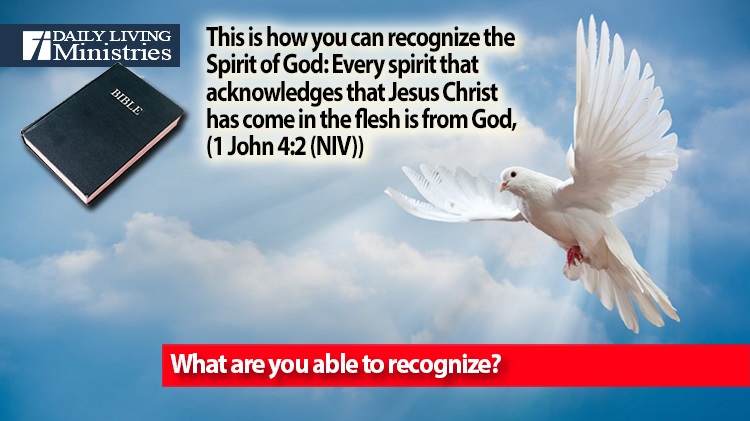 Be Still . . .
Devotionals for Daily Living ©
This is how you can recognize the Spirit of God: Every spirit that acknowledges that Jesus Christ has come in the flesh is from God,
(1 John 4:2 (NIV))
Each and every one of us has the proverbial gut feeling at times. You know the one where without any details or reason, you get a feeling about something or someone that you just can't seem to shake. How many of you have had that gut feeling confirmed as time passed and the details came into focus? Some people refer to it as a discerning spirit. If you are someone who has professed a faith in Jesus as your personal Lord and Savior, then your discerning spirit is the Holy Spirit giving you insight.
Think about that last statement.
We all know people who are not believers and many are nice people, even friends and family, but there are those who just seem to exude evil even though they may put up a pleasing facade until the topic turns to Jesus. You know the type. Angry and lashing out at anything and anyone who disagrees with them about God. Not only do they just ignore Jesus, they vehemently deny that He is from God.
but every spirit that does not acknowledge Jesus is not from God. This is the spirit of the antichrist, which you have heard is coming and even now is already in the world.
(1 John 4:3 (NIV))
As members of the Body of Christ, we have professed a faith that acknowledges that Jesus Christ has come in the flesh and that He was sent by God the Father. We will encounter the spirit of the antichrist in this world. With all of the events transpiring in the world today, we are seeing that more and more. Some even say that we may be seeing the real antichrist soon appearing on the world stage. As believers, we have been told by Jesus that we would still have troubles in this world.
"I have told you these things, so that in me you may have peace. In this world you will have trouble. But take heart! I have overcome the world."
(John 16:33 (NIV))
No matter what the world may send our way, we must stand firm in our faith in Jesus. We must rely on the discerning spirit that we have been given. We must be able to recognize evil when the world is calling it good. We must stay strong in His Word and put on the full armor of God so that we can discern evil and stand fully with God. We must be able to recognize the enemy.
What are you able to recognize?
Copyright 1998 – 2022 Dennis J. Smock
Daily Living Ministries, Inc.
http://www.dailylivingministries.org
Support Daily Living Ministries
Subscribe to daily email delivery
Visit us on facebook