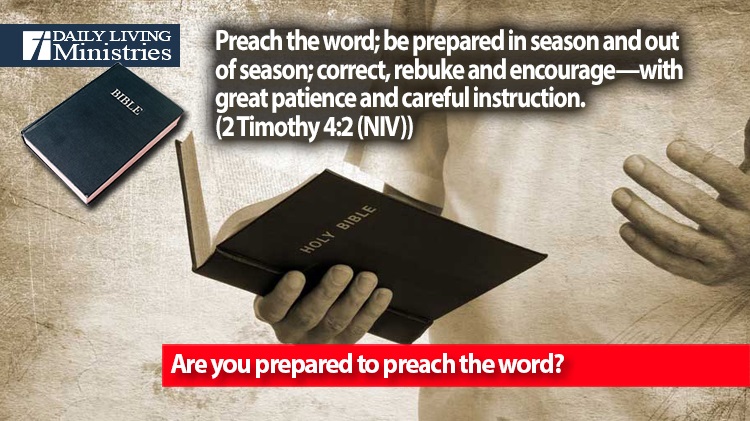 Be Still . . .
Devotionals for Daily Living ©
Preach the word; be prepared in season and out of season; correct, rebuke and encourage—with great patience and careful instruction.
(2 Timothy 4:2 (NIV))
Paul's letters to Timothy provided some very clear instructions on what Timothy was to do while challenging the false doctrine that was being preached in Ephesus. These exact words are what we should be doing in our world today as we encounter the false teachings and the false gods espoused by the world. We, like Timothy, are to hold fast to the never-changing truth of the Gospel of Jesus Christ. We are called to share that truth. We are called to be His light in this dark and dying world. We are to stand firm in our faith and share that faith even when all around us appears to be lost. The truth of the Gospel can break through!
Sadly, there will come a day when no one will want to hear the truth. If you look at the current situations and events in this world today, we are getting closer and closer to that day. People are fulfilling the next words to Timothy in an ever-increasing, ever escalating fashion.
For the time will come when people will not put up with sound doctrine. Instead, to suit their own desires, they will gather around them a great number of teachers to say what their itching ears want to hear. They will turn their ears away from the truth and turn aside to myths.
(2 Timothy 4:3-4 (NIV))
They will turn their ears away from the truth!
I am seeing more and more that people are calling good evil and evil good. I am seeing more and more where people will believe anything but the truth. I am seeing an outright hatred of the truth!
We are called to stand firm and to persevere even in the face of such adversity.
But you, keep your head in all situations, endure hardship, do the work of an evangelist, discharge all the duties of your ministry.
(2 Timothy 4:5 (NIV))
Discharge all the duties of your ministry!
I can hear your thoughts as I write this. Many of you are thinking that you don't have a ministry and that ministries are for the "professional" evangelists. If you profess a faith in Jesus as your personal Lord and Savior, then you have been given marching orders. How you carry out those instructions is your ministry!
Therefore go and make disciples of all nations, baptizing them in the name of the Father and of the Son and of the Holy Spirit, and teaching them to obey everything I have commanded you.
(Matthew 28:19-20a (NIV))
Are you prepared to preach the word?
Copyright 1998 – 2022 Dennis J. Smock
Daily Living Ministries, Inc.
http://www.dailylivingministries.org
Support Daily Living Ministries
Subscribe to daily email delivery
Visit us on facebook