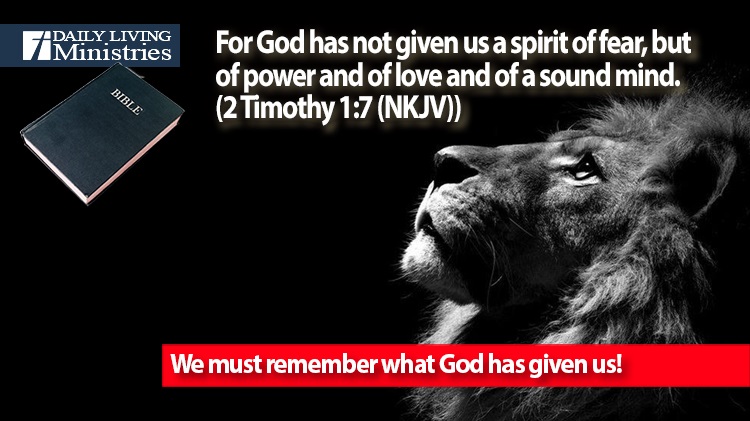 Be Still . . .
Devotionals for Daily Living ©
For God has not given us a spirit of fear, but of power and of love and of a sound mind.
(2 Timothy 1:7 (NKJV))
I realize that I have referenced this passage at least once a year for the last few years. Can you blame me?
Every time that we turn around, something new has shown up on the world stage that appears to have the potential to be worse than the previous things that we thought were of great concern. If you have not professed a faith in Jesus as your personal Lord and Savior, all of the events that seem to be escalating in intensity and frequency probably have you very concerned if not completely scared. If your only perspective is this world and the current state of this world, then it would scare most people to death. Sadly, I have seen recent statistics that point this out. It appears that death rates have risen significantly over the last two years with the majority of this increase coming from what we have labeled as the millennials. They see no hope for the future and are taking measures into their own hands. The majority of this generation was not raised to trust in God or even to believe that He exists, so when things get tough, they have no firm foundation on which to place their trust. They fear the future and see no way for anything good to come out of it.
I could fill up page after page of events detailing the ramifications of these events and what could be coming next. If you study Biblical prophesy, then Ezekiel, Daniel and Revelation possibly come to mind as the events unfold right before us. I do not profess to know more than the people who recorded these books, but I do know that we are living in interesting times. On any given day, it is possible to see God's timeline unfolding just from the news that we see.
Thankfully, we know the outcome. We know God's plans. We may not know the exact details, but He has given us enough to recognize His Hand at work. He has told us beforehand what will transpire so that we can overcome, so that we can have peace.
"I have told you these things, so that in me you may have peace. In this world you will have trouble. But take heart! I have overcome the world."
(John 16:33 (NIV))
Most people face the world in fear, but if you profess a faith in Jesus as your personal Lord and Savior, you have nothing to fear. We can rely on His power and His love to see us through whatever the enemy sends our way as he faces his last days before Jesus returns. That should truly give us a sound mind, for we can rest assured that we are in Christ and that He is in us!
We must remember what God has given us!
Copyright 1998 – 2022 Dennis J. Smock
Daily Living Ministries, Inc.
http://www.dailylivingministries.org
Support Daily Living Ministries
Subscribe to daily email delivery
Visit us on facebook