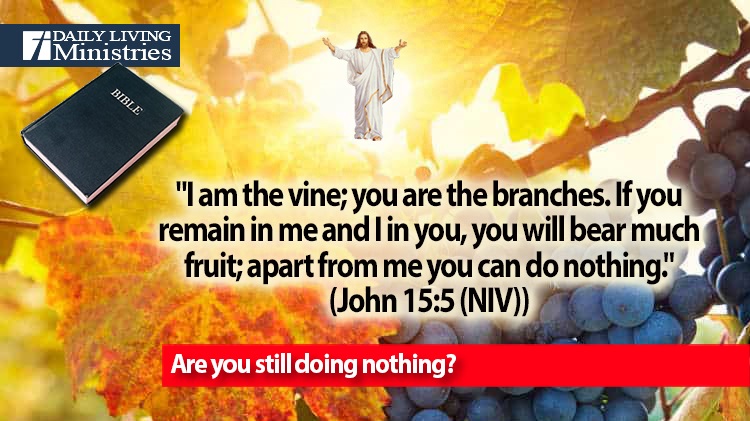 Be Still . . .
Devotionals for Daily Living ©
"I am the vine; you are the branches. If you remain in me and I in you, you will bear much fruit; apart from me you can do nothing."
(John 15:5 (NIV))
Our society has always applauded the self-made man. You know the type. This person bucks the role models and goes for the prize based on their own designs, their own desires. The old Frank Sinatra song "My Way" talks about such a person, such a life. Is that really what we are called to do if we profess a faith in Jesus as our personal Lord and Savior?
I realize that when Jesus walked the earth, He bucked the trends because the trends in this sinful, fallen world are not how God intended. If you look deeper, what He was doing was not trying to change Himself. He was trying to change the world and turn people back to the way that the Lord had originally intended for us to live and for us to be in fellowship with Him. In essence, Jesus was calling for people to prune themselves from the sinful things of the world and graft themselves into Him so that they could find righteousness!
The things of this world are fleeting. The things of this world are sinful. If we follow the world, if we stay connected to the world, we can do nothing of consequence.
All of us have become like one who is unclean,
      and all our righteous acts are like filthy rags;
we all shrivel up like a leaf,
      and like the wind our sins sweep us away.
(Isaiah 64:6 (NIV))
If we remain in Jesus and Jesus in us, then we overcome the world and fully rely on Him as we do the things that He has called us to do. This leaves only one thing left to ask.
Are you still doing nothing?
Copyright 1998 – 2022 Dennis J. Smock
Daily Living Ministries, Inc.
http://www.dailylivingministries.org
Support Daily Living Ministries
Subscribe to daily email delivery
Visit us on facebook