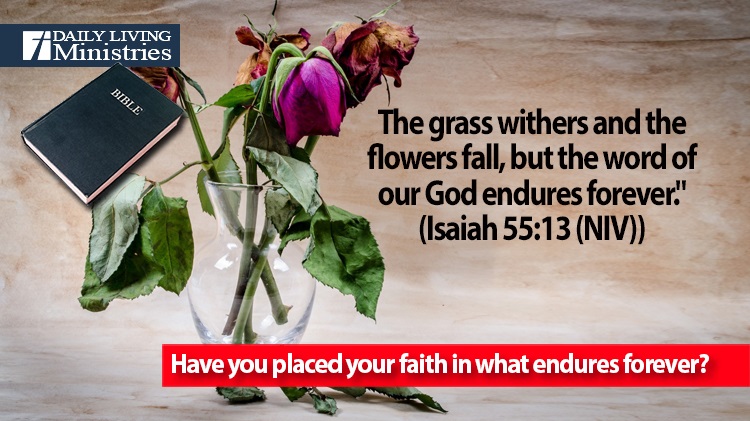 Be Still . . .
Devotionals for Daily Living ©
The grass withers and the flowers fall, but the word of our God endures forever."
(Isaiah 40:8 (NIV))
If you have spent many years in this world, you understand that seasons change and with the changing seasons, what we took for granted in the spring and summer slowly starts to fade in the fall. and is completely gone by winter. The green grass that we used as a carpet for our springtime and summer activities soon turns brown. The beauty of the flowers fades as the last petal falls leaving only a stem that will also soon wither and die. Each day that we look in the mirror finds us growing older and soon, the face that we see starring back at us is so much different from the face that we remember from our youth.
It is often said that time is a cruel mistress. It takes the things that are beautiful and turns them to something we don't recognize. It takes the things that we love and makes them old and run down.
Nothing in this physical world endures! Even the biggest structures in the world deteriorate and fall apart.
Thankfully, we have a hope that is not of this world! We have a hope that is firmly rooted in someone who is greater than the world.
But from everlasting to everlasting the Lord's love is with those who fear him, and his righteousness with their children's children—
(Psalms 103:17 (NIV))
Your kingdom is an everlasting kingdom, and your dominion endures through all generations. The Lord is trustworthy in all he promises and faithful in all he does.
(Psalms 145:13 (NIV))
For to us a child is born, to us a son is given, and the government will be on his shoulders. And he will be called Wonderful Counselor, Mighty God, Everlasting Father, Prince of Peace.
(Isaiah 9:6 (NIV))
Our hope is forever and everlasting. It is limitless in time and continues indefinitely. Is that something that our human minds can truly comprehend? We are finite. He is infinite. We are mortal. He is immortal. We are the creation. He is the Creator. We are destined to die. He has overcome death! We often follow lies. He is the only truth. We are sinful by nature. He is righteousness!
If there is something that endures forever, I am so thankful that it is His word, for our thoughts and actions without Him are destined to wither and die.
Have you placed your faith in what endures forever?
Copyright 1998 – 2022 Dennis J. Smock
Daily Living Ministries, Inc.
http://www.dailylivingministries.org
Support Daily Living Ministries
Subscribe to daily email delivery
Visit us on facebook