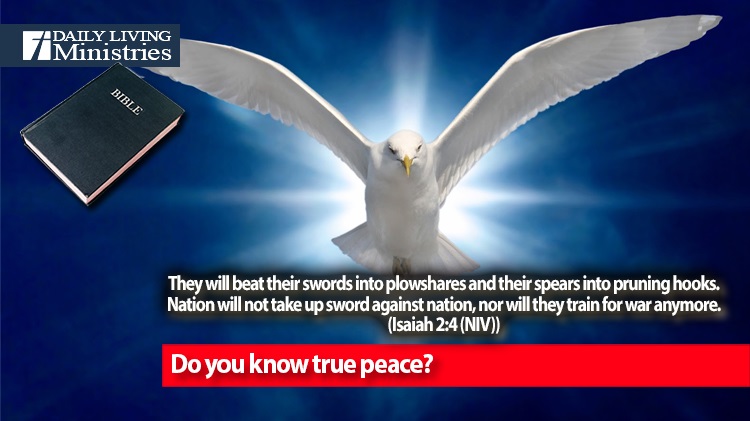 Be Still . . .
Devotionals for Daily Living ©
They will beat their swords into plowshares and their spears into pruning hooks. Nation will not take up sword against nation, nor will they train for war anymore.
(Isaiah 2:4 (NIV))
How many people have you heard quote this passage, or should I say, misquote this passage?
Many people use these words to describe what they feel can be achieved by humanity without God's intervention. They do not realize, or maybe they refuse to admit, that the world under man and Satan will never be what they want it to be. They have believed the lie of the enemy and do not fully understand the truth from God.
The imagery portrayed within these words is definitely one of a fabulous place. You could even say that it would be heaven on earth. Isaiah was speaking of just that, or close to it. These words speak of the Millennial Kingdom on this earth before Satan is allowed to roam free and before being cast into the lake of fire. It does not refer to anything that is within the grasp of humanity without God.
If anyone tries to convince you that there is peace and security, and that this is coming about because of human activity, beware!. Many may be deceived by this promise of peace.
There is only one source of peace, and His name is Jesus.
And the peace of God, which transcends all understanding, will guard your hearts and your minds in Christ Jesus.
(Philippians 4:7 (NIV))
Do you know true peace?
Copyright 1998 – 2022 Dennis J. Smock
Daily Living Ministries, Inc.
http://www.dailylivingministries.org
Support Daily Living Ministries
Subscribe to daily email delivery
Visit us on facebook