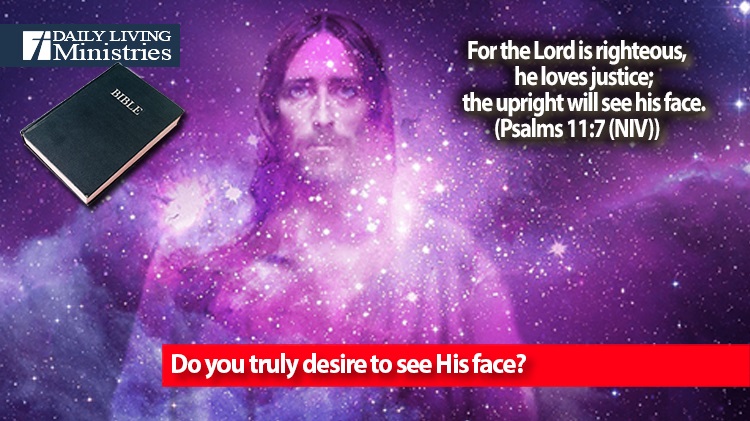 Be Still . . .
Devotionals for Daily Living ©
For the Lord is righteous,
      he loves justice;
      the upright will see his face.
(Psalms 11:7 (NIV))
Do you see yourself in this passage? Do you truly desire His righteousness, His justice and to see His face? Is this your priority or do you desire the opposite of what the Lord desires? If you profess a faith in Jesus as your personal Lord and Savior, then it should be your desire to see Jesus, to follow Jesus, and to be washed in His blood so that you are imparted His righteousness. It is my prayer that you truly desire these things, for we are blatantly told what will happen to those who are false believers.
"Not everyone who says to me, 'Lord, Lord,' will enter the kingdom of heaven, but only the one who does the will of my Father who is in heaven. Many will say to me on that day, 'Lord, Lord, did we not prophesy in your name and in your name drive out demons and in your name perform many miracles?' Then I will tell them plainly, 'I never knew you. Away from me, you evildoers!'
(Matthew 7:21-23 (NIV))
I pray that you truly understand that missing the Lord's definition of righteousness is considered sin. Falsely knowing Jesus is a sin. To claim His righteousness, we must claim Jesus as our personal Lord and Savior and cling to Jesus in all that we do. We must desire Him!
The Lord is in his holy temple;
      the Lord is on his heavenly throne.
He observes everyone on earth;
      his eyes examine them.
The Lord examines the righteous,
      but the wicked, those who love violence,
      he hates with a passion.
On the wicked he will rain
      fiery coals and burning sulfur;
      a scorching wind will be their lot.
(Psalm 11:4-6 (NIV))
We know that the Lord sees everything. We know that He sees our hearts. He knows our thoughts. Left to our own thoughts, we are wicked, and as such, we are helpless, hopeless and lost. But when we believe in our heart and profess with our mouth that Jesus is Lord, then we will be saved. It takes more than lip-service. We must truly believe that Jesus is Lord, then we can rest assured in the best promise that has ever been made.
for, "Everyone who calls on the name of the Lord will be saved."
(Romans 10:13 (NIV))
Do you truly desire to see His face?
Copyright 1998 – 2022 Dennis J. Smock
Daily Living Ministries, Inc.
http://www.dailylivingministries.org
Support Daily Living Ministries
Subscribe to daily email delivery
Visit us on facebook