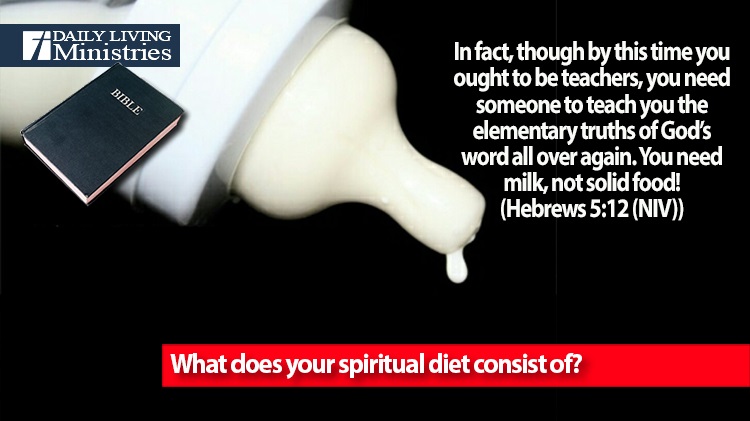 Be Still . . .
Devotionals for Daily Living ©
In fact, though by this time you ought to be teachers, you need someone to teach you the elementary truths of God's word all over again. You need milk, not solid food!
(Hebrews 5:12 (NIV))
How long have you professed a faith in Jesus as your personal Lord and Savior? Do you measure that amount of time in days, weeks, months, years, or decades? Based on these two questions, are you on solid spiritual food yet? If not, at what point will you be able to sink your spiritual teeth into the solid food of faith? Are you mature enough in your faith to be able to teach others what you know about Jesus, or do you still rely on a one hour session once a week for all that you do know? Do you dive deeper into God's Word on a daily basis, or do you simply listen to what someone else tells you once a week?
It is possible to be a sixty year old milk-fed infant. It is also possible to be a sixteen year old who feasts on the solid substance and depth of your relationship with Jesus.
If someone has professed a faith in Jesus as their personal Lord and Savior, they are on a journey that leads them to maturity in their faith in Jesus. Each day should see their spiritual diet mature in substance and understanding. We are called to share this understanding, this good news, with those whom we see. We are called to share the Gospel, but if we are still on spiritual milk, how can we share with confidence and clarity. It takes a maturity to be able to share the Gospel and to teach.
Therefore go and make disciples of all nations, baptizing them in the name of the Father and of the Son and of the Holy Spirit, and teaching them to obey everything I have commanded you.
(Matthew 28:19-20a (NIV))
What are the key words from this passage?
Go. Make. Disciples. Baptizing. Teaching.
How can we go if we are not mature in our faith? How can we make disciples if we are not mature in our faith? How can we baptize if we are not mature in our faith. How can we teach if we still need spiritual milk? We must wean ourselves off of the milk and fully embrace the solid spiritual truths that are fulfilled in and through Jesus.
What does your spiritual diet consist of?
Copyright 1998 – 2022 Dennis J. Smock
Daily Living Ministries, Inc.
http://www.dailylivingministries.org
Support Daily Living Ministries
Subscribe to daily email delivery
Visit us on facebook