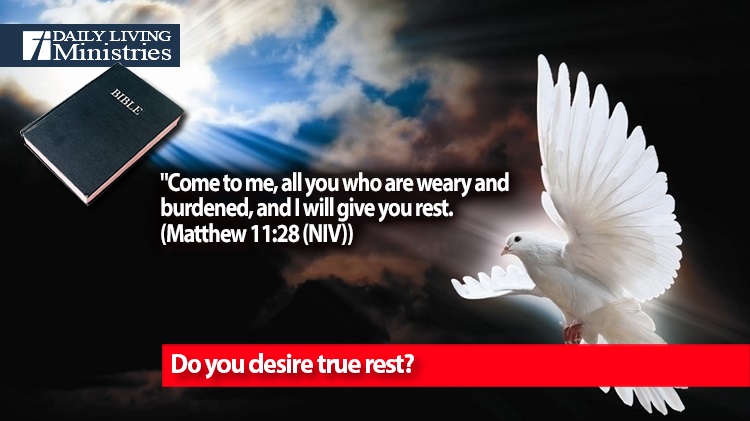 Be Still . . .
Devotionals for Daily Living ©
"Come to me, all you who are weary and burdened, and I will give you rest.
(Matthew 11:28 (NIV))
If you have lived any length of time at all in this world, you know very well how it can drag you down. It will make you so weary at times that you do all that you can do to simply drag yourself out of bed. Just the thought of another day like all of the others makes you want to scream. The enemy does his job all too well when it comes to making you feel like you are carrying the weight of the world upon your shoulders.
It doesn't have to be like that!
And, yes, people who profess a faith in Jesus still have days like this. We still live in this world, but we have a hope for a future beyond the realm of this physical world. We have placed our faith and trust in Jesus, and as a result, we can rest assured that His promises are true. He desires to ease our burdens.
Take my yoke upon you and learn from me, for I am gentle and humble in heart, and you will find rest for your souls. For my yoke is easy and my burden is light."
(Matthew 11:29-30 (NIV))
The biggest burden that Jesus has lifted is the consequences for our sins. If we profess a faith in Jesus, we are no longer bound by the law of sin and death. He has saved us from eternal separation from God by taking our punishment upon Himself. He has removed our burdens. He has provided a way to escape the troubles of this world. He has given us peace.
"I have told you these things, so that in me you may have peace. In this world you will have trouble. But take heart! I have overcome the world."
(John 16:33 (NIV))
Do you desire true rest?
Copyright 1998 – 2022 Dennis J. Smock
Daily Living Ministries, Inc.
http://www.dailylivingministries.org
Support Daily Living Ministries
Subscribe to daily email delivery
Visit us on facebook