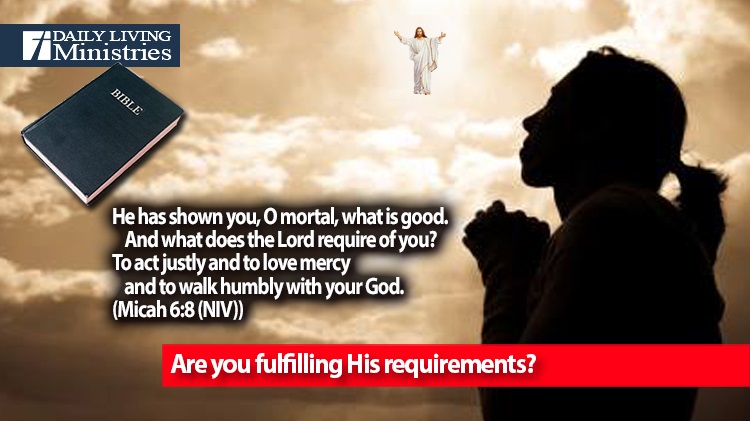 Be Still . . .
Devotionals for Daily Living ©
He has shown you, O mortal, what is good.
     And what does the Lord require of you?
To act justly and to love mercy
     and to walk humbly with your God.
(Micah 6:8 (NIV))
Sometimes we get so caught up in what the world calls good that we lose sight of what is truly good.
Lately, we have seen things in this world that no one in their right mind would call good. In fact, many would say that the world is calling evil good and good is being called evil. Where do you stand on the things that have been happening in this world? Do you think that they are escalating in frequency and intensity? Do you long for things to return to some type of normalcy or have you started looking up?
If you love the world, you are probably focused on being able to return to the things that you used to know. How does that appear to be going? Do you see any signs of this happening in the near future?
If you love the Lord, you are probably looking around at what is going on and, as a result, your gaze has shifted. Have you started looking for the Lord? I honestly believe that many who profess a faith in Jesus as their personal Lord and Savior are doing just that. We see signs and know that the time is close. Still, what do we do while still in this world? What do we do when we encounter those who have fallen for the delusion and believe that good is evil and that evil is good?
That is a very tough question, but it has a very simple answer!
We are to treat them in the same manner that we long to be treated. We are to act justly.
We are to show mercy when our human nature eggs us on to fall back into our depraved, sinful nature. We are to love mercy even when we are not shown mercy by this world, for we have been shown the greatest mercy of all.
We are to live out our lives in humility for we are all sinners in need of a Savior. We must not allow our ego and pride to be the stumbling block that prevents someone from coming to a saving relationship with Jesus.
Only God knows what tomorrow will bring. We must allow ourselves to be guided by the Holy Spirit in such a way that we are being obedient to His calling no matter what the circumstances. We must always keep our eyes on Jesus!
Are you fulfilling His requirements?
Copyright 1998 – 2022 Dennis J. Smock
Daily Living Ministries, Inc.
http://www.dailylivingministries.org
Support Daily Living Ministries
Subscribe to daily email delivery
Visit us on facebook