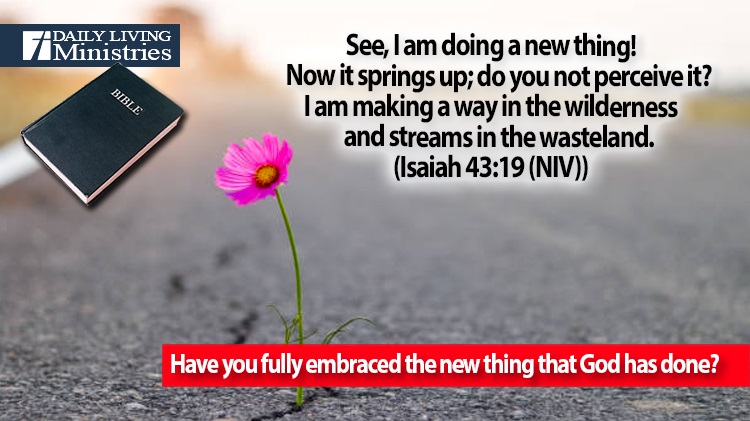 Be Still . . .
Devotionals for Daily Living ©
See, I am doing a new thing!
      Now it springs up; do you not perceive it?
I am making a way in the wilderness
      and streams in the wasteland.
(Isaiah 43:19 (NIV))
What is your attitude on change?
Do you like things to stay the status quo? Are you comfortable when you know exactly what is happening each day? Are you the kind of person who has everything planned out and you make sure that everything goes according to your plan? What if the status quo is bad? What if we are trapped in a sinful cycle that self perpetuates the more that we try to stay the course, to maintain the status quo?
Ever since the fall from grace, humanity has been trapped in a sinful cycle and everything that God did to show us what to do seemed to fall on deaf ears. He would make a covenant with us and we would break it. He would raise up a remnant and make them the ones who inherited the covenant only to find that they eventually broke it again. This happened more times than we probably care to admit. All of this was done to show us that we are not capable of His righteousness due to our sinful, fallen nature.
God had to do something new!
He sent His Son, Jesus, to walk among us, to teach us, and to die for us so that our sins could be washed away. This would have not been complete without the final step. He had to defeat the power of death! He had to be resurrected from the grave.
I, even I, am he who blots out
      your transgressions, for my own sake,
      and remembers your sins no more.
(Isaiah 43:25 (NIV))
As we face another uncertain new year, remember the new thing that God has done. Remember the love that He has for us. Remember the power that overcame sin and death at the cross. Remember Jesus!
Have you fully embraced the new thing that God has done?
Copyright 1998 – 2021 Dennis J. Smock
Daily Living Ministries, Inc.
http://www.dailylivingministries.org
Support Daily Living Ministries
Subscribe to daily email delivery
Visit us on facebook