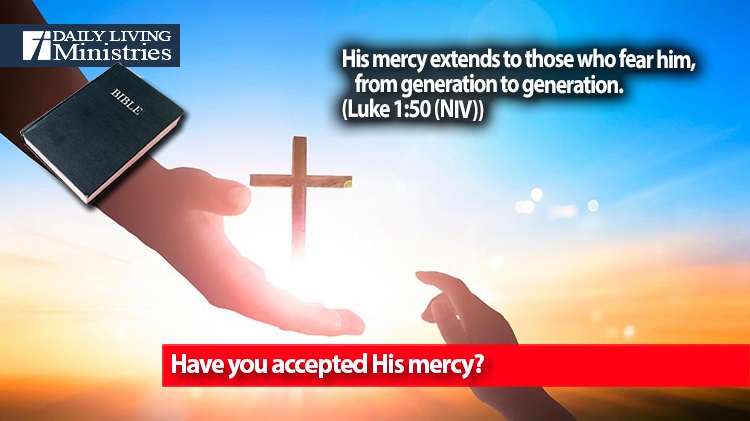 Be Still . . .
Devotionals for Daily Living ©
His mercy extends to those who fear him,
     from generation to generation.
(Luke 1:50 (NIV))
Have you ever read these words and realized that this is the reason that Jesus came into the world?
He came to bring us mercy. He came to bring us grace. He came to bring us hope. He came to bring us something that we could not achieve on our own, and that was a way to be reconciled, to be made righteous in the eyes of God the Father. If that isn't mercy, then what is it? Perhaps you could say that it is love.
For God so loved the world that he gave his one and only Son, that whoever believes in him shall not perish but have eternal life. For God did not send his Son into the world to condemn the world, but to save the world through him. Whoever believes in him is not condemned, but whoever does not believe stands condemned already because they have not believed in the name of God's one and only Son.
(John 3:16-18 (NIV))
When you think of the birth of Jesus, many things comes to mind, but the one thing that we must remember is that God came to be with us so that His mercy could be explained and offered firsthand. He came to fulfill the law so that we could be held blameless and righteous through His actions. He came so that we could have abundant life in this world and with Him in eternity.
He provided a way for us to escape the consequences of our sinful, human nature and all that we have to do to be shown this mercy is follow a plan as easy as ABC.
A is for admit that you are a sinner in need of a savior.
B is for believe in your heart that Jesus Christ died for your sins, was buried, and that God raised Him from the dead.
C is for call upon the name of the Lord Jesus.
Have you accepted His mercy?
Copyright 1998 – 2021 Dennis J. Smock
Daily Living Ministries, Inc.
http://www.dailylivingministries.org
Support Daily Living Ministries
Subscribe to daily email delivery
Visit us on facebook