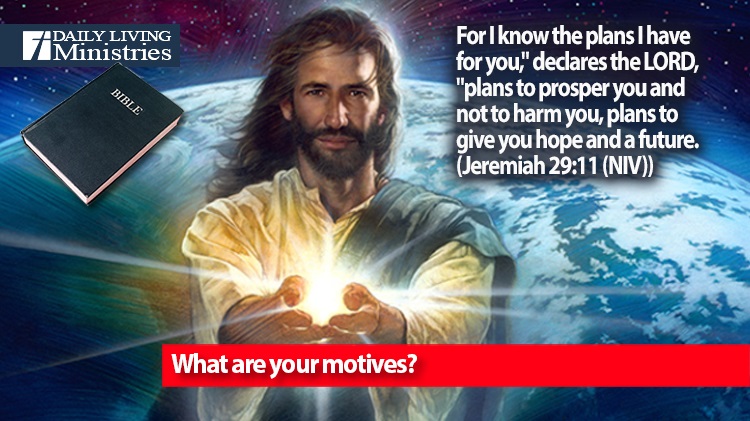 Be Still . . .
Devotionals for Daily Living ©
For I know the plans I have for you," declares the LORD, "plans to prosper you and not to harm you, plans to give you hope and a future.
(Jeremiah 29:11 (NIV))
In this world in which we live, this is a joyous message. The God of all creation has plans for each and every one of us. God wants to give us good things. He wants to prosper us. He wants to protect us from harm. He wants to give us hope.
Carefully consider what God has promised to each of us in this passage. The basic desires of humanity are met in these words. We all desire to be prosperous at what we do. We all desire to be kept from harm. We all desire to have hope for a better tomorrow for ourselves and our families. The words that God gave to us through Jeremiah touch each one of us at our innermost longings, desires and hopes.
God has given us an insight into ourselves and into His own heart through these words. He also gave us a glimpse into the ultimate hope through the gift of His Son, Jesus Christ. If we place our faith and hope in Jesus, God will prosper us. He will protect us. He will give us a hope and a future. It is true that God sent His Son, Jesus, so that we could have salvation from our sins, but Jesus also came for other reasons.
The thief comes only to steal and kill and destroy; I have come that they may have life, and have it to the full.
(John 10:7(NIV))
Don't get me wrong. God's sole purpose is not to be our personal wish fulfillment factory. He is not there to turn to when we want something. He is there to be our Father at all times. If we turn to Him as a loving Father and earnestly seek His face in all things, then He will prosper us just as He promised in Jeremiah.
Are you looking for God to prosper you or are you looking to God in all that you do? It is a matter of your heart.
What are your motives?
Copyright 1998 – 2021 Dennis J. Smock
Daily Living Ministries, Inc.
http://www.dailylivingministries.org
Support Daily Living Ministries
Subscribe to daily email delivery
Visit us on facebook