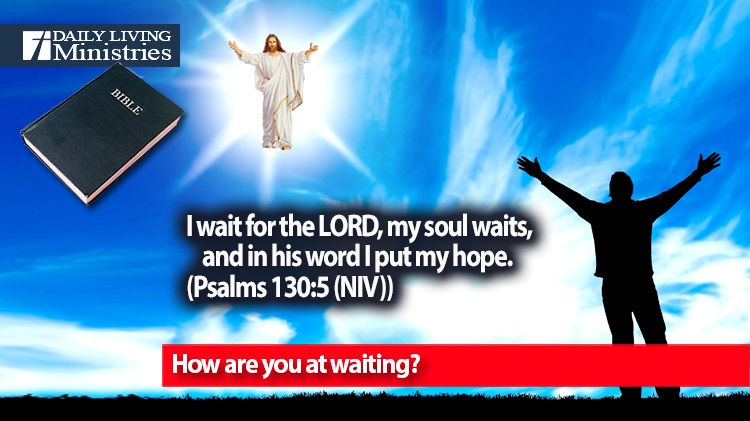 Be Still . . .
Devotionals for Daily Living ©
I wait for the LORD, my soul waits,
     and in his word I put my hope.
(Psalms 130:5 (NIV))
Do you have patience?
Let me rephrase that last statement.
Have you grown tired of waiting for the Lord?
That sounds awfully harsh, but if you stop to think about it, we are all guilty of that very thing. We have grown to expect instantaneous rewards and solutions to our problems. We have become expectant of the fast food type of response from anyone and everyone in our lives.
Think back on the stories from the Bible. Did any of them have an instantaneous answer from God? Did Abraham become the father of many nations overnight? Did David become the king of Israel when God selected him from among his brothers? Did Noah go out and buy a boat the day that he heard God tell him it was going to rain? Did Moses lead the Israelites our of Egypt the day he returned from the desert? We all know these answers, yet we have grown to expect much more than these fathers of our faith ever would have imagined. We must take a lesson from these very people and take these words to heart.
Be still, and know that I am God
(Psalms 46:10a (NIV))
To know God is to trust in Him. To know God is to place all of your hope in Him. We must be willing to go the distance with God and not grow tired of waiting for Him. I know that we are only human and at times, we will grow weary in our patience. The key is to realize that He is maturing us and those around us so that we may know His fullness. We must realize that we are not waiting for Him. On the contrary, He is waiting for us!
The Lord is not slow in keeping his promise, as some understand slowness. He is patient with you, not wanting anyone to perish, but everyone to come to repentance.
(2 Peter 3:9 (NIV))
I am so very thankful that God has waited for me!
How are you at waiting?
Copyright 1998 – 2021 Dennis J. Smock
Daily Living Ministries, Inc.
http://www.dailylivingministries.org
Support Daily Living Ministries
Subscribe to daily email delivery
Visit us on facebook