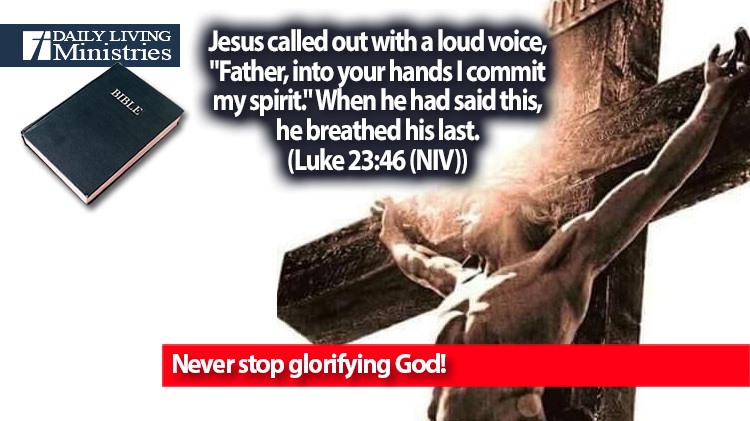 Be Still . . .
Devotionals for Daily Living ©
Jesus called out with a loud voice, "Father, into your hands I commit my spirit." When he had said this, he breathed his last.
(Luke 23:46 (NIV))
We read these words and marvel at the control that Jesus had as He faced the cross. Even unto the point of death He remained in control. Even unto death He remained a model for how we should live our lives.
He set the bar quite high. Can any of us achieve what Jesus achieved? Can we face our lives and even our deaths as Jesus did? Can we walk with the faith that no matter what may happen, God is right there with us just as He was with Jesus?
I just realized one very important thing that many people ignore. In order for Jesus to fulfill God's plan, God had to turn His back on Jesus when Jesus took the sin of the world upon Himself. For that period of time, Jesus was alone. We never have to be alone. God will never turn His back on us for the price has been paid in full. Jesus paid that price, and even when He was all alone, He still returned glory to where it belonged.
Human nature is so frail. Even with the assurances that God is with us and the Jesus died for us, all too often we fail to acknowledge God's presence in our lives. We need to take a lesson from Jesus' last words on the cross and fully embrace God's glory and presence no matter what we may be facing.
I love the life that God has blessed me with, but, when it comes to be my time, I pray that I remember to glorify God as Jesus did. Life is a great gift. Grace is a great gift. Fully embrace both and live your life as God intended. Don't allow anything to take it away from you.
The thief comes only to steal and kill and destroy; I have come that they may have life, and have it to the full.
(John 10:10 (NIV))
Never stop glorifying God!
Copyright 1998 – 2021 Dennis J. Smock
Daily Living Ministries, Inc.
http://www.dailylivingministries.org
Support Daily Living Ministries
Subscribe to daily email delivery
Visit us on facebook