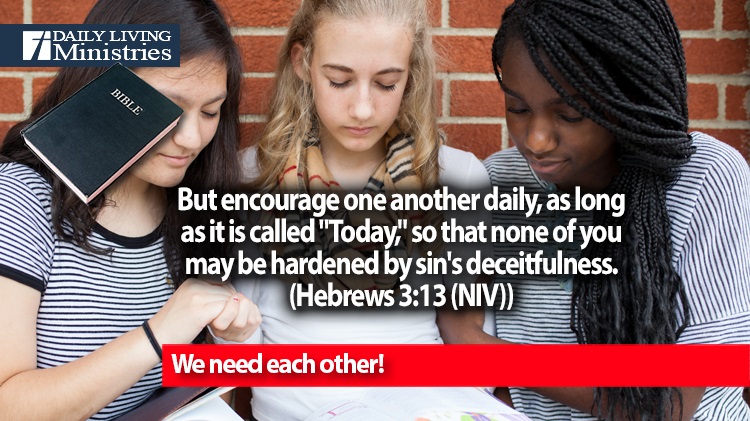 Be Still . . .
Devotionals for Daily Living ©
But encourage one another daily, as long as it is called "Today," so that none of you may be hardened by sin's deceitfulness.
(Hebrews 3:13 (NIV))
There is an old saying that no man is an island. We do not, nor are we supposed to live in a total vacuum devoid of all contact with anyone else. We need each other. We find strength from the encouragement of others and we are to give encouragement to others so that they can find strength through us. In this process, we must not falsely believe that it is we who have the strength to give. We must realize that the source of our strength in in the Lord.
Be still, and know that I am God;
(Psalm 46:10a (NIV))
We must spend time daily in His presence, but we are not supposed to stay there isolated from other believers. We are to spend time in His presence and then spend time with other members of the Body of Christ so that we can encourage each other, so that we can lift up each other as we face the sinful, fallen world that we find ourselves traveling through. We are to reinforce, we are to encourage each other as we seek to follow in His footsteps.
And let us consider how we may spur one another on toward love and good deeds, not giving up meeting together, as some are in the habit of doing, but encouraging one another—and all the more as you see the Day approaching.
(Hebrews 10:24-25 (NIV))
To put it simply, we cannot encourage others if we don't spend time with them. We are designed for fellowship with other believers. We know what we are to do, but do we truly understand when we are to do this?
What is your definition of "Today?"
It is difficult to define this word without using the word in our efforts, but basically it means that we are to encourage each other at the present time and on this day. We are not to wait! We are not to deny the need! We are not to take the attitude that we will deal with it tomorrow, for tomorrow will never truly come. Tomorrow will turn into today and a new tomorrow will be waiting for us. We can't do anything tomorrow, but we can do so much "Today!" When we are alone, we wallow in self pity. We don't have other brothers and sisters to remind us of the glorious promises that are all yes through Jesus. When we are alone, we begin to believe the lies of the enemy. I know that Jesus had the disciples so that they could share the Gospel, but have you ever thought about it from a different perspective? When Jesus walked the earth, He was not alone!
As members of the Body of Christ, there is one thing that we must remember. We need each other!
Copyright 1998 – 2021 Dennis J. Smock
Daily Living Ministries, Inc.
http://www.dailylivingministries.org
Support Daily Living Ministries
Subscribe to daily email delivery
Visit us on facebook