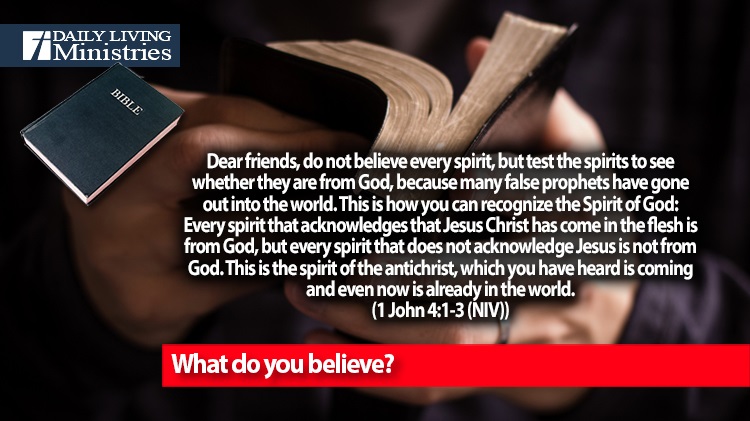 Be Still . . .
Devotionals for Daily Living ©
Dear friends, do not believe every spirit, but test the spirits to see whether they are from God, because many false prophets have gone out into the world. This is how you can recognize the Spirit of God: Every spirit that acknowledges that Jesus Christ has come in the flesh is from God, but every spirit that does not acknowledge Jesus is not from God. This is the spirit of the antichrist, which you have heard is coming and even now is already in the world.
(1 John 4:1-3 (NIV))
In today's world, deceit is everywhere. The prince of this world tries to deceive the faithful by wrapping his deception in a cloak that imitates the Truth.
Be careful in what you allow into your heart. Test everything. Satan can also appear as an angel of Light. If something does not acknowledge that Jesus Christ is Lord and Savior, run from it.
All of God's Truth throughout the history of the Bible has pointed to one man through many prophecies. If something professes to be from God, yet does not acknowledge that Jesus is the only begotten Son, it is not from God.
Jesus foretold of this and left us a warning.
For false Christs and false prophets will appear and perform signs and miracles to deceive the elect–if that were possible. So be on your guard; I have told you everything ahead of time.
(Mark 13:22-23 (NIV))
Do not be deceived, but keep your eyes focused on God and His Son, Jesus Christ.
What do you believe?
Copyright 1998 – 2021 Dennis J. Smock
Daily Living Ministries, Inc.
http://www.dailylivingministries.org
Support Daily Living Ministries
Subscribe to daily email delivery
Visit us on facebook