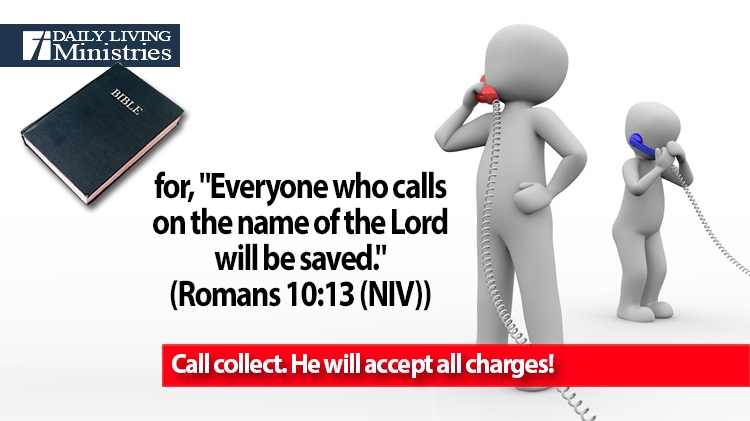 Be Still . . .
Devotionals for Daily Living ©
for, "Everyone who calls on the name of the Lord will be saved."
(Romans 10:13 (NIV))
Do you know someone who feels that they are too far gone for God to care about them? Are you trying to share the grace and mercy that is freely given and their reply is that you don't know what they have done? Do they think that what they have done is so bad that God could never forgive them? Perhaps that someone is you and you were given this to read. Rest assured that the only thing that God cannot forgive is a hardened heart. His forgiveness requires that you soften your heart and turn to accept His offer of grace and mercy.
God loves you. He never left you. It is we, in our sinful nature, who have left Him. Each of us have tried to fill that void where God should be with what the world has to offer. Nothing in this world will work! He has provided a way for this void to be filled with Himself. He has provided a way to return to Him. In fact, He is calling us to return to Himself.
For God so loved the world that he gave his one and only Son, that whoever believes in him shall not perish but have eternal life. For God did not send his Son into the world to condemn the world, but to save the world through him. Whoever believes in him is not condemned, but whoever does not believe stands condemned already because they have not believed in the name of God's one and only Son. This is the verdict: Light has come into the world, but people loved darkness instead of light because their deeds were evil. Everyone who does evil hates the light, and will not come into the light for fear that their deeds will be exposed. But whoever lives by the truth comes into the light, so that it may be seen plainly that what they have done has been done in the sight of God.
(John 3:16-21 (NIV))
As you can see, God's offer is on the table. It is up to us whether we accept it or reject it. It is as easy as ABC.
A is for admit that you are a sinner in need of a savior. Soften your heart and turn to the Lord.
B is for believe in your heart that Jesus Christ died for your sins, was buried, and that God raised Him from the dead.
C is for call upon the name of the Lord Jesus.
Something else for you to think about. He wants you to call on Him.
Call collect. He will accept all charges!
Copyright 1998 – 2021 Dennis J. Smock
Daily Living Ministries, Inc.
http://www.dailylivingministries.org
Support Daily Living Ministries
Subscribe to daily email delivery
Visit us on facebook