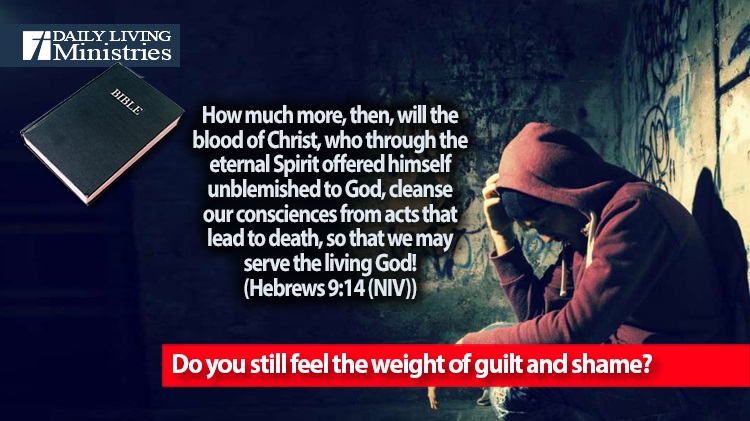 Be Still . . .
Devotionals for Daily Living ©
How much more, then, will the blood of Christ, who through the eternal Spirit offered himself unblemished to God, cleanse our consciences from acts that lead to death, so that we may serve the living God!
(Hebrews 9:14 (NIV))
What weighs on your conscience?
Every single one of us is guilty of so much in our lives. We can't seem to go a single day without adding something more to the already overwhelming burden of sin that we have accumulated during our time on this earth. If you ever truly stop and reflect on the sin that has permeated your life, it is staggering.
In your opinion, what is the worst thing that you have ever done in this life?
Do you try to bury it so deep inside that you never have to think about it? It is still there. It is still ammunition that the enemy can use against you. It is one of his primary tactics to get you to think that the grace offered by Jesus on the cross could never be for someone like you! The enemy loves to make you feel guilty and then drive that guilt home. The enemy loves to take the guilt and then turn it into shame. When this happens, you lose all hope, for you have not only accepted the lie, you have embraced the lie of condemnation as your own story.
Stop right there!
That does not have to be your story!
For God so loved the world that he gave his one and only Son, that whoever believes in him shall not perish but have eternal life. For God did not send his Son into the world to condemn the world, but to save the world through him. Whoever believes in him is not condemned, but whoever does not believe stands condemned already because they have not believed in the name of God's one and only Son.
(John 3:16-18 (NIV))
Do you believe?
If you answered that you believe, then you are not condemned. You have absolutely nothing to feel guilty for and you have absolutely nothing in your life that needs to cause shame. Jesus took these sins and covered them with His blood. The blood of Christ has cleansed you. You have been washed white as snow.
Do you still feel the weight of guilt and shame?
Copyright 1998 – 2021 Dennis J. Smock
Daily Living Ministries, Inc.
http://www.dailylivingministries.org
Support Daily Living Ministries
Subscribe to daily email delivery
Visit us on facebook