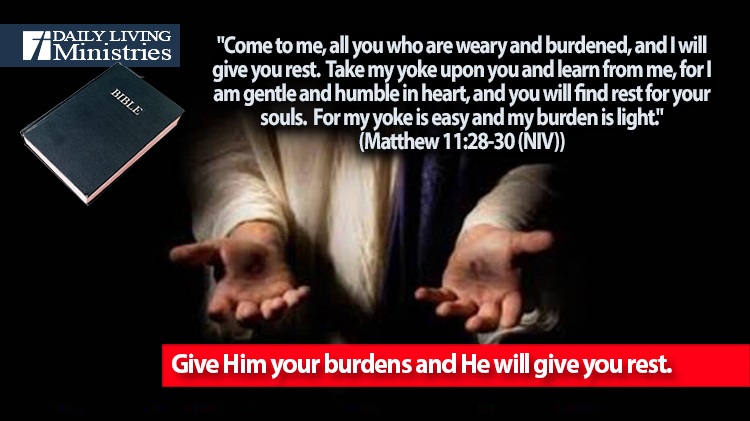 Be Still . . .
Devotionals for Daily Living ©
"Come to me, all you who are weary and burdened, and I will give you rest. Take my yoke upon you and learn from me, for I am gentle and humble in heart, and you will find rest for your souls. For my yoke is easy and my burden is light."
(Matthew 11:28-30 (NIV))
I realize that I have sent this before, but with what is going on in the world, we have a great need to be reminded that we can truly rest in Jesus!
This world piles burden upon burden on us in our daily lives. Our jobs, our obligations, our financial needs, and sometimes even our families and our church become burdens. We must step back and focus on the words of Jesus.
Rest! Everyone desires it, but in this world, true rest cannot come. Rest only comes when one is at peace. Peace is a concept that the world wants but can not grant. True peace only comes from the source of all creation through His Son Jesus Christ. Trade burdens with Jesus and gain peace and rest.
The burden that Jesus bore has paid in full your burden of sin and death. Whatever you are carrying now, He carried to the cross almost two thousand years ago.
Give Him your burdens and He will give you rest.
Copyright 1998 – 2021 Dennis J. Smock
Daily Living Ministries, Inc.
http://www.dailylivingministries.org
Support Daily Living Ministries
Subscribe to daily email delivery
Visit us on facebook