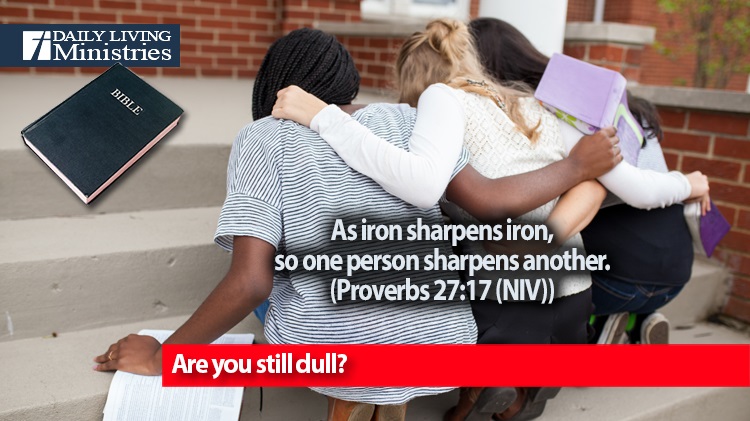 Be Still . . .
Devotionals for Daily Living ©
As iron sharpens iron, so one person sharpens another.
(Proverbs 27:17 (NIV))
This is a fantastic way of saying that members of the Body of Christ need each other. We hold each other accountable. We lift up each other when we need support. We encourage each other to stay strong in our faith. When we see each other faltering and straying, we can come in along side of each other and support each other as we repent and redirect our focus back to Jesus. We are there to encourage each other and lift up each other in our unique giftings as we all function as individual members of the unified Body of Christ.
For just as each of us has one body with many members, and these members do not all have the same function, so in Christ we, though many, form one body, and each member belongs to all the others.
(Romans 12:4-5 (NIV))
If we belong to each other, then when one of us trips and falls, all of us should hurt. When one of us brings glory to the Body, all of us should rejoice. When one of us is in pain, we should all bring comfort. Did you notice one very important word in all of these sentences?
Should!
These are things that we are supposed to be doing as members of the Body of Christ, but how well do we do what we should?
If our fellowship with each other is supposed to hold us accountable and sharpen our faith, are we truly sharpening each other?
Are you still dull?
Copyright 1998 – 2021 Dennis J. Smock
Daily Living Ministries, Inc.
http://www.dailylivingministries.org
Support Daily Living Ministries
Subscribe to daily email delivery
Visit us on facebook