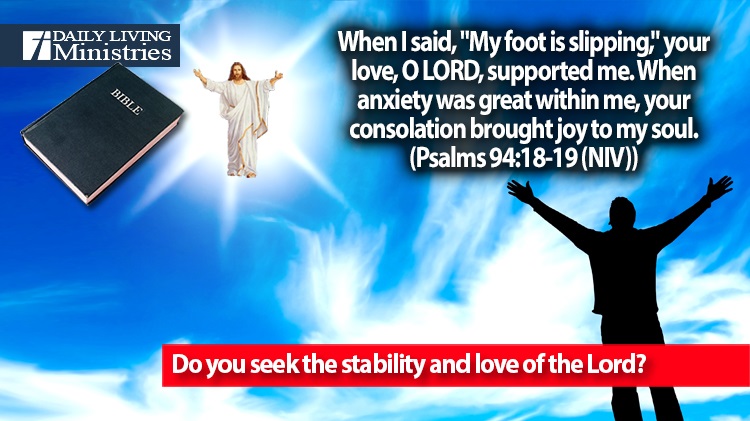 Be Still . . .
Devotionals for Daily Living ©
When I said, "My foot is slipping," your love, O LORD, supported me. When anxiety was great within me, your consolation brought joy to my soul.
(Psalms 94:18-19 (NIV))
Have you ever been in a situation like this? Have you ever felt like this? There is a very good chance that not only have each of us experienced things like this, but we have probably experienced them in recent history.
What makes your foot slip? What gives you great anxiety?
It is probably a very safe assumption to say that both of these occur when we take our eyes off of Jesus. It is at that time when we look at the world and our circumstances in the world. When you are walking, most slips and falls occur because you have diverted your eyes and your attention from the path in front of you. It is at these very moments that you falter and possibly even fall to the ground simply because you lost focus on what lie ahead. Isn't this just like what happens in your spiritual walk when you take your eyes off of Jesus? It is at these moments that you fail to follow the path in front of you. When this happens, our spiritual footing slips. We falter and fall into something that we don't really desire to be in. When this happens, human nature seems to remind us of our shortcomings. The enemy drives the point home and we soon find ourselves in great anxiety.
What has made you take your eyes off of Jesus?
You are either lucky or lying if you say that you only have one thing that distracts you from Jesus! Even the most mature of us have too many things to place into this list. The good thing about this is that no matter your spiritual maturity level, the Lord walks with you and waits patiently for you to repent and return to Him. Just as He was waiting for us with open arms when we accepted Jesus as our personal Lord and Savior, He is waiting with open arms for us to repent and return to Him on a daily, and possibly even on an hourly basis. Some of us may even need to repent and return each minute of the day. He will be there! He will take us in His arms and wipe away the tears caused by our failures and our anxiety? He will pick us up and place us back on the path that leads to Him. He will walk hand in hand with us if we simply ask Him to!
I truly understand why the psalmist wrote that His consolation brought joy to his soul.
Do you seek the stability and love of the Lord?
Copyright 1998 – 2021 Dennis J. Smock
Daily Living Ministries, Inc.
http://www.dailylivingministries.org
Support Daily Living Ministries
Subscribe to daily email delivery
Visit us on facebook