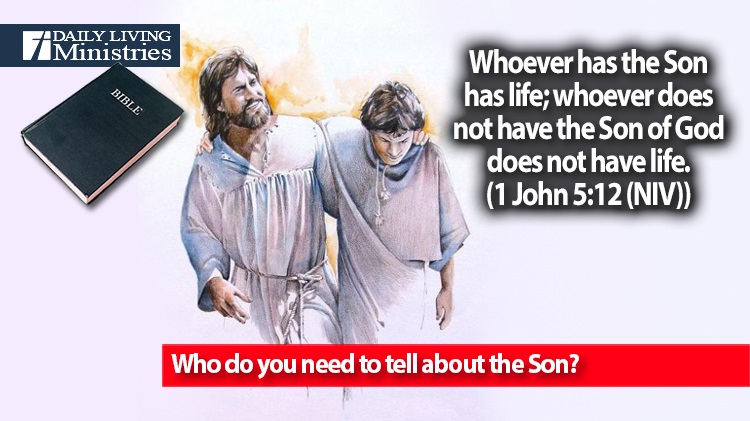 Be Still . . .
Devotionals for Daily Living ©
Whoever has the Son has life; whoever does not have the Son of God does not have life.
(1 John 5:12 (NIV))
If you ever go shopping, you are familiar with the concept of buying one, getting one free. I have to tell you that no matter what type of deal you may get when you do this, it is nothing compared to the amazing deal that you get for free by accepting God's Son, Jesus, as your personal Lord and Savior! You get someone who is closer than a brother and you also get eternal life with Jesus in the presence of the Father. This is the ultimate deal considering our sinful nature.
for all have sinned and fall short of the glory of God,
(Romans 3:23 (NIV))
For the wages of sin is death, but the gift of God is eternal life in Christ Jesus our Lord.
(Romans 6:23 (NIV))
To summarize, we are all sinners and the penalty for our sin is death, but God…
For God so loved the world that he gave his one and only Son, that whoever believes in him shall not perish but have eternal life. For God did not send his Son into the world to condemn the world, but to save the world through him. Whoever believes in him is not condemned, but whoever does not believe stands condemned already because they have not believed in the name of God's one and only Son.
(John 3:16-18 (NIV))
This message never gets old, especially if you have the Son and life. It is also a reminder to those who profess a faith in Jesus that this gift is too precious, too great to keep to ourselves. When we read about God loving the world, we must not forget the consequences for those who do not have the Son of God. They do not have life! Is that what we want to have on our conscience? Do we want to forever realize that because we did not share the Son with someone, they are lost for all eternity?
Having the Son and having life is by far the very best deal that anyone can ever make. It is as easy as ABC.
A is for admit that you are a sinner in need of a savior.
B is for believe in your heart that Jesus Christ died for your sins, was buried, and that God raised Him from the dead.
C is for call upon the name of the Lord Jesus.
Who do you need to share the ABCs with?
Who do you need to tell about the Son?
Copyright 1998 – 2021 Dennis J. Smock
Daily Living Ministries, Inc.
http://www.dailylivingministries.org
Support Daily Living Ministries
Subscribe to daily email delivery
Visit us on facebook