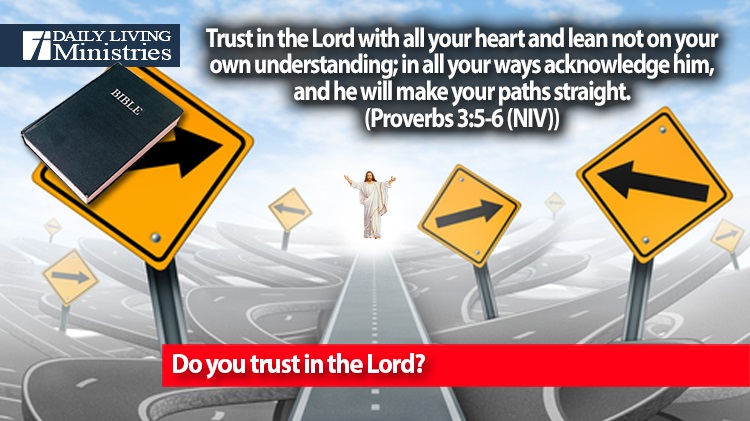 Be Still . . .
Devotionals for Daily Living ©
Trust in the Lord with all your heart and lean not on your own understanding; in all your ways acknowledge him, and he will make your paths straight.
(Proverbs 3:5-6 (NIV))
How true this is!
Our understanding of what happens in this physical world is only a small portion of what really happens. Now, consider that all events in the physical world have a corresponding event or series of events in the spiritual realm, and you soon realize that our understanding is practically nothing.
I once heard a commentary in which T.S. Elliot asked God why his wife had been taken from him in death. God told him that he could explain it to him, but he would not understand it. Think about that in the context of education and comprehension. Can you imagine a nuclear physicist telling an infant how things work at the atomic level. He could explain it all he wants, but the capability to understand is not there. The same is true of how things happen in this world. God could explain them, but we are as infants and lack the capability to understand. We are limited by our current state.
For now we see in a mirror dimly, but then face to face. Now I know in part; then I shall know fully, even as I have been fully known.
(1 Corinthians 13:12 (ESV))
Consider how an infant must trust his or her parents for everything that they need. When we realize that we are truly infants in the faith and in our understanding, we soon come to the conclusion that all things work together if we simply trust in the Lord.
We must be as infants and trust in God to lead us and guide us in His truth just as an infant loves and trusts their parents. We learn as we go. We take a step and look back to see if God is still there. We take a few more steps and realize that He is walking at our side. We take a few more steps and realize that He is leading and guiding us.
It all starts with trust!
Do you trust in the Lord?
Copyright 1998 – 2021 Dennis J. Smock
Daily Living Ministries, Inc.
http://www.dailylivingministries.org
Support Daily Living Ministries
Subscribe to daily email delivery
Visit us on facebook