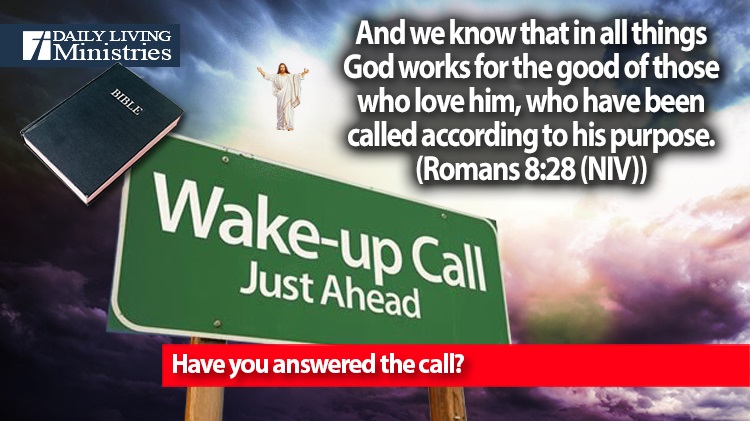 Be Still . . .
Devotionals for Daily Living ©
And we know that in all things God works for the good of those who love him, who have been called according to his purpose.
(Romans 8:28 (NIV))
This verse came to mind earlier today because of something that my family has experienced, but God had a different direction for me to write about.
With everything that is going on in the world, many people are probably asking how can God work this for good for those who love Him? I completely understand the concern. Nothing in this world makes sense anymore. Good is being called evil and evil is being called good. We have all seen what happens to people who speak out against the insanity that just seems to be the new normal. In fact, I just read a brief news clip saying that a member of Congress has been banned from a particular social media platform simply because he was saying something contrary to the accepted insanity. This is just the latest example. There are countless preachers, teachers and evangelists who have been banned on various platforms simply for sharing God's Word as it relates to current events.
The sad thing is that I don't think that this is going to get any better!
I am now seeing people who I have never heard say much publicly about God, Jesus or the Holy Spirit who are now confessing that they firmly believe that the time is at hand. Don't get me wrong. These people were and are believers. They were just quiet individuals who simply lived their lives trying to live by God's Word. Now they are sharing what their spirit is feeling.
What is your spirit feeling? Are you seeing the events transpiring in this world and shedding a tear because they break your heart? Are you at a loss for words and only the groanings of your spirit seem to ease the uncertainty that you see?
God is our refuge and strength,
     an ever-present help in trouble.
(Psalms 46:1 (NIV))
We need to remember this passage as the events unfold before us. I love the way that God's Word leads us and guides us. Shortly after we are told that God is our refuge and strength, we are told to be still in His presence. Is God telling us to take refuge in Him and watch what He does? Is God telling us that after everything unfolds that He will be exalted? I realize that these are rhetorical questions, but sometimes we just need to be reminded of His majesty.
He says, "Be still, and know that I am God;
     I will be exalted among the nations,
     I will be exalted in the earth."
(Psalms 46:10 (NIV))
When we read Romans 8:28, we have a tendency to make it personal, especially when we are going through an individual struggle or trial. It truly doesn't take much thought to know that in all things God does work for the good of all who love Him. That is all part of His plan. That is all part of His purpose that we have been called by. Jesus is that plan. Jesus is that good. Jesus is that purpose. You need to answer the call before it is too late.
Have you answered the call?
Copyright 1998 – 2021 Dennis J. Smock
Daily Living Ministries, Inc.
http://www.dailylivingministries.org
Support Daily Living Ministries
Subscribe to daily email delivery
Visit us on facebook