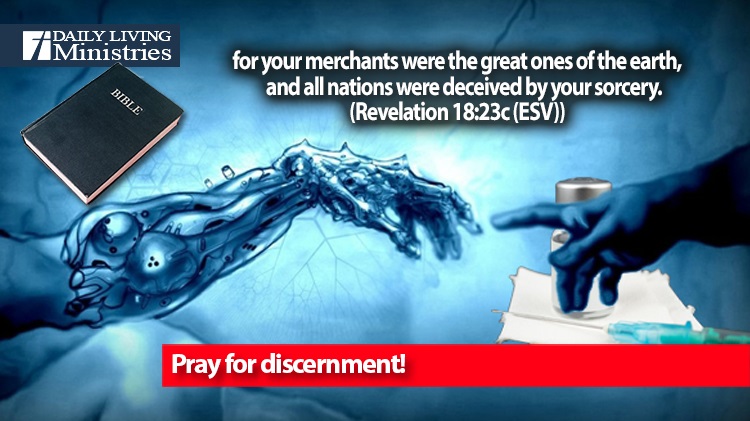 Be Still . . .
Devotionals for Daily Living ©
for your merchants were the great ones of the earth,
     and all nations were deceived by your sorcery.
(Revelation 18:23c (ESV))
I realize that I sent this out about seven months ago, but something in my spirit felt compelled to resurrect this again, especially in light of all that has transpired lately. Please understand that I am not against science, for God gave us wisdom and knowledge, but He also gave us the ability to discern what is right in His eyes. We must learn to rely on God for that discernment. We must learn to rely on God above all else. He will not forsake you. He will not let you be deceived if you go to Him in prayer. When in doubt, PRAY!!!
What do you think of when you hear or read about sorcery? Is it magic or is it something more?
The original passage was written in Greek, and the word that has been translated as sorcery in most of the English translations is the word "pharmakeia." Pharmakeia means the use of medicine, drugs or spells. In essence, it is drug-related or drug-enhanced sorcery. What caught my attention is that all nations are to be deceived by this practice. In other words, could this be a worldwide deception based on pharmaceutical drugs?
Is that possible?
Can the whole world be deceived in such a manner?
Up until recently, I think that it is safe to say that most people would say that this was not possible. Now, people are changing their minds about this possibility, especially when you consider that people in every nation around the whole world are anxiously awaiting a vaccination so that their lives can return to normal. Is this the beginning of all nations being deceived or is it simply a coincidence?
I am not suggesting one way or the other as to whether to take the vaccine. That is a matter of some very serious prayer that each of us must undertake. What I am saying is for us to dive deeper into God's Word so that we know as much as possible, so that we are fully prepared for battle.
Finally, be strong in the Lord and in the strength of his might. Put on the whole armor of God, that you may be able to stand against the schemes of the devil. For we do not wrestle against flesh and blood, but against the rulers, against the authorities, against the cosmic powers over this present darkness, against the spiritual forces of evil in the heavenly places. Therefore take up the whole armor of God, that you may be able to withstand in the evil day, and having done all, to stand firm. Stand therefore, having fastened on the belt of truth, and having put on the breastplate of righteousness, and, as shoes for your feet, having put on the readiness given by the gospel of peace. In all circumstances take up the shield of faith, with which you can extinguish all the flaming darts of the evil one; and take the helmet of salvation, and the sword of the Spirit, which is the word of God, praying at all times in the Spirit, with all prayer and supplication. To that end, keep alert with all perseverance, making supplication for all the saints,
(Ephesians 6:10-18 (ESV))
Do you recognize sorcery when you see it?
Pray for discernment!
Copyright 1998 – 2021 Dennis J. Smock
Daily Living Ministries, Inc.
http://www.dailylivingministries.org
Support Daily Living Ministries
Subscribe to daily email delivery
Visit us on facebook