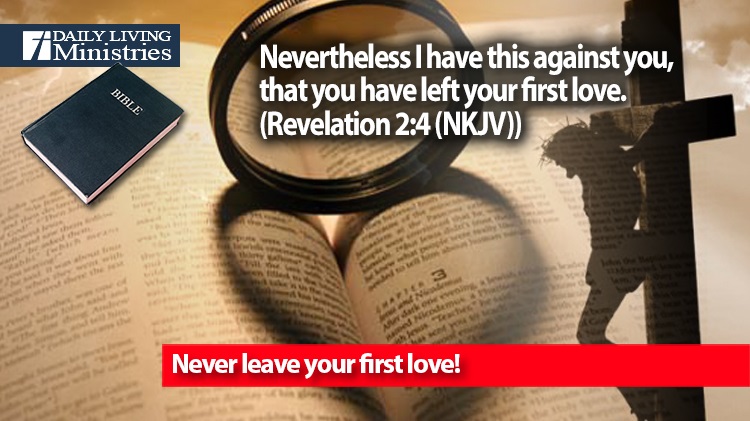 Be Still . . .
Devotionals for Daily Living ©
Nevertheless I have this against you, that you have left your first love.
(Revelation 2:4 (NKJV))
The church at Ephesus did many things right, but it all came collapsing down with this single statement!
Have you ever wondered what they had left? Have you ever thought that they simply got in a routine of doing things that were righteous, but forgot the reasons behind why they did them? They did good works. They labored for the sake of the Gospel. They had learned patience and they hated evil. They could even spot false apostles, but what good did it do them if they had left their first love? They had forgotten the love of Jesus and without that love, everything is meaningless. They had faith. They had hope, but they no longer had love!
And now these three remain: faith, hope and love. But the greatest of these is love.
(1 Corinthians 13:13 (NIV))
Without love, you soon find yourself focusing on the letter of the law and not the intent. The Pharisees focused on the letter of the law. Jesus came to show that God's intent was love. In essence, when you lose love, you become a Pharisee, and you insist on telling others what to do while not doing it yourself. You create a double standard in which you judge others but seek grace for yourself. This is completely contrary to what Jesus taught.
"Teacher, which is the greatest commandment in the Law?"
Jesus replied: "'Love the Lord your God with all your heart and with all your soul and with all your mind.' This is the first and greatest commandment. And the second is like it: 'Love your neighbor as yourself.' All the Law and the Prophets hang on these two commandments."
(Matthew 22:36-40 (NIV))
We are to love each other as we love ourselves!
Above all, love each other deeply, because love covers over a multitude of sins.
(1 Peter 4:8 (NIV))
It was out of love that Jesus came into the world. It was out of love that He taught. It was out of love that He went to the cross. His love covers all of our sins. What we are called to do is love others in such a way that they are covered in Christ! If you have forgotten how to love, then it is time to follow through on what Jesus told the church at Ephesus.
Remember therefore from where you have fallen; repent and do the first works, or else I will come to you quickly and remove your lampstand from its place—unless you repent.
(Revelation 2:5 (NKJV))
Never leave your first love!
Copyright 1998 – 2021 Dennis J. Smock
Daily Living Ministries, Inc.
http://www.dailylivingministries.org
Support Daily Living Ministries
Subscribe to daily email delivery
Visit us on facebook