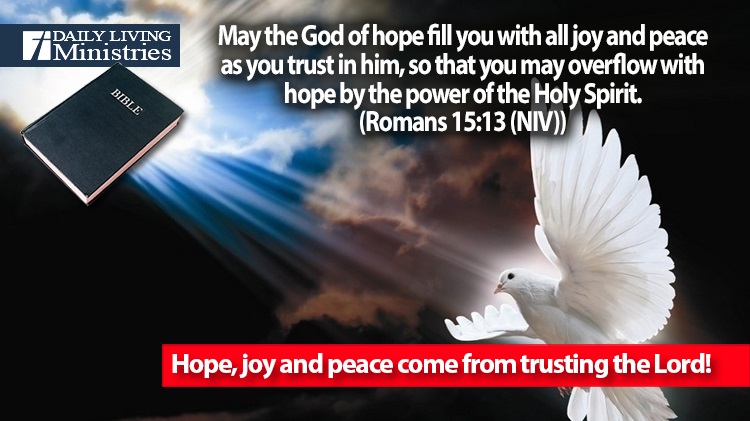 Be Still . . .
Devotionals for Daily Living ©
May the God of hope fill you with all joy and peace as you trust in him, so that you may overflow with hope by the power of the Holy Spirit.
(Romans 15:13 (NIV))
With the current state of the world, we need hope. We need joy, and we need peace!
Can you imagine how people who don't profess a faith in Jesus as their personal Lord and Savior are coping with what we have been facing? Even members of the Body of Christ can sometimes begin to feel the weight of the world crashing down on us, and we have the hope we have been given through Jesus to cling to! Can you imagine the weight that others are feeling when they have no hope to cling to?
We are all familiar with the often used saying that when things are looking down, look up. To be honest with you, I see more and more people boldly proclaiming their faith through social media than I have ever seen. It may just be the algorithms that are used, but it appears that over fifty percent of what I see is people sharing faith based content. I take this as an indication that people are spending more time in God's Word and are clinging to the truth that it contains. People are looking up! Or, should I say that they are looking down into the pages of their Bibles? Can we take this as a sign that people are lifting their hearts and their hands to heaven? Can we take this as a sign the people are lifting up prayers to the Lord?
For those of us who cling to the promises that are "yes" in Jesus, we have hope. We have joy, and we have peace. We also have an assignment!
Then Jesus came to them and said, "All authority in heaven and on earth has been given to me. Therefore go and make disciples of all nations, baptizing them in the name of the Father and of the Son and of the Holy Spirit, and teaching them to obey everything I have commanded you. And surely I am with you always, to the very end of the age."
(Matthew 28:18-20 (NIV))
And, the harvest fields are ripe to hear the Gospel!
Then I heard the voice of the Lord saying, "Whom shall I send? And who will go for us?"
And I said, "Here am I. Send me!"
(Isaiah 6:8 (NIV))
There has never been a better time to share the Gospel of Jesus. The time may be short and for those who don't trust in the Lord, we may be the only people who will share. We must tell them the truth!
Hope, joy and peace come from trusting the Lord!
Copyright 1998 – 2021 Dennis J. Smock
Daily Living Ministries, Inc.
http://www.dailylivingministries.org
Support Daily Living Ministries
Subscribe to daily email delivery
Visit us on facebook