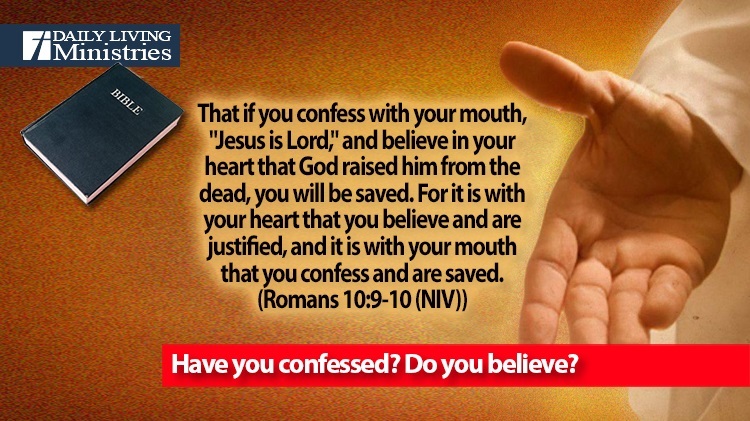 Be Still . . .
Devotionals for Daily Living ©
That if you confess with your mouth, "Jesus is Lord," and believe in your heart that God raised him from the dead, you will be saved. For it is with your heart that you believe and are justified, and it is with your mouth that you confess and are saved.
(Romans 10:9-10 (NIV))
Two things – confess with your mouth and believe in your heart. Nothing could be simpler, yet, we, as His church, have made it difficult. We have placed all types of rules and regulations on what Jesus intended to be easy.
Some people believe that only their denomination is going to be saved. Some people claim that only those whom God has predestined will be saved. Some people believe that only those that have been water baptized will be saved. Still, others believe that only those who keep the Jewish Sabbath, which is Saturday, will be saved.
I do not see any of these stipulations in this passage. No matter how many times I read it, I still only see two things – confess with your mouth and believe in your heart.
Do not think that I have come to abolish the Law or the Prophets; I have not come to abolish them but to fulfill them.
(Matthew 5:17 (NIV))
The word "fulfill" means to make full, to put into effect, to measure up, and to convert into reality. The reality of the Law before Jesus was that no one measured up. No one could fulfill the requirements of the Law. So, Jesus came as a man and fulfilled the requirements. He provided a way for us to fulfill the Law in our lives. It is grace that allows that.
It is not a denomination. It is not predestination. It is not baptism. It is not observing man made traditions.
Everybody is familiar with the crucifixion story. Consider these events from Luke.
One of the criminals who hung there hurled insults at him: "Aren't you the Christ? Save yourself and us!"
But the other criminal rebuked him. "Don't you fear God," he said, "since you are under the same sentence? We are punished justly, for we are getting what our deeds deserve. But this man has done nothing wrong."
Then he said, "Jesus, remember me when you come into your kingdom. "
Jesus answered him, "I tell you the truth, today you will be with me in paradise."
(Luke 23:39-43 (NIV))
Did Jesus make the thief belong to a certain group? Did Jesus tell him that he had been predestined to be saved? Did Jesus have an opportunity to baptize this man?
He simply told him that he would be with Him in paradise.
Traditions are important, but we must be careful to not let them take the place of the true meaning and grace that faith brings.
Faith is simple. Salvation is simple. It requires two things – confess with your mouth, "Jesus is Lord," and believe in your heart that God raised him from the dead.
Have you confessed? Do you believe?
Copyright 1998 – 2021 Dennis J. Smock
Daily Living Ministries, Inc.
http://www.dailylivingministries.org
Support Daily Living Ministries
Subscribe to daily email delivery
Visit us on facebook